Cowboy hats for women are super on trend and are a unique accessory to amp up your look. We've got a list of the most versatile, stylish cowboy hats you need to have in your closet. If you embrace western or boho style, we've got the ultimate accessory for you.
Best Womens Cowboy Hats
Best Overall Cowgirl Hat
The Sierra Women's American Leather Cowboy hat is your go-to accessory. Its versatile style will compliment any outfit, whether you're running errands during the day or heading out for the night. The cowhide leather cowboy hat has a 3-inch brim, a 4-inch crown, and a braided cord band, making it one of the top sellers.
The Sierra has several features that make it super comfortable without sacrificing style. Designed to be ultra-lightweight, the women's cowboy hat also has a removable sweatband that pads for extra comfort and wicks away sweat that protects the hat.
Fitting true to size, the Sierra womens leather cowboy hat comes in various colors, sizes, and designs. You can choose from brown, black, latte, teal, or wine, each with its signature style and leather print. The hat comes in a wide selection of sizes, from small to 3X large.
Pros
Removable, washable, sweatband
Lightweight
Multiple colors to choose from
High-quality 100% real cowhide leather
Lifetime warranty
Cons
Some colors sell out fast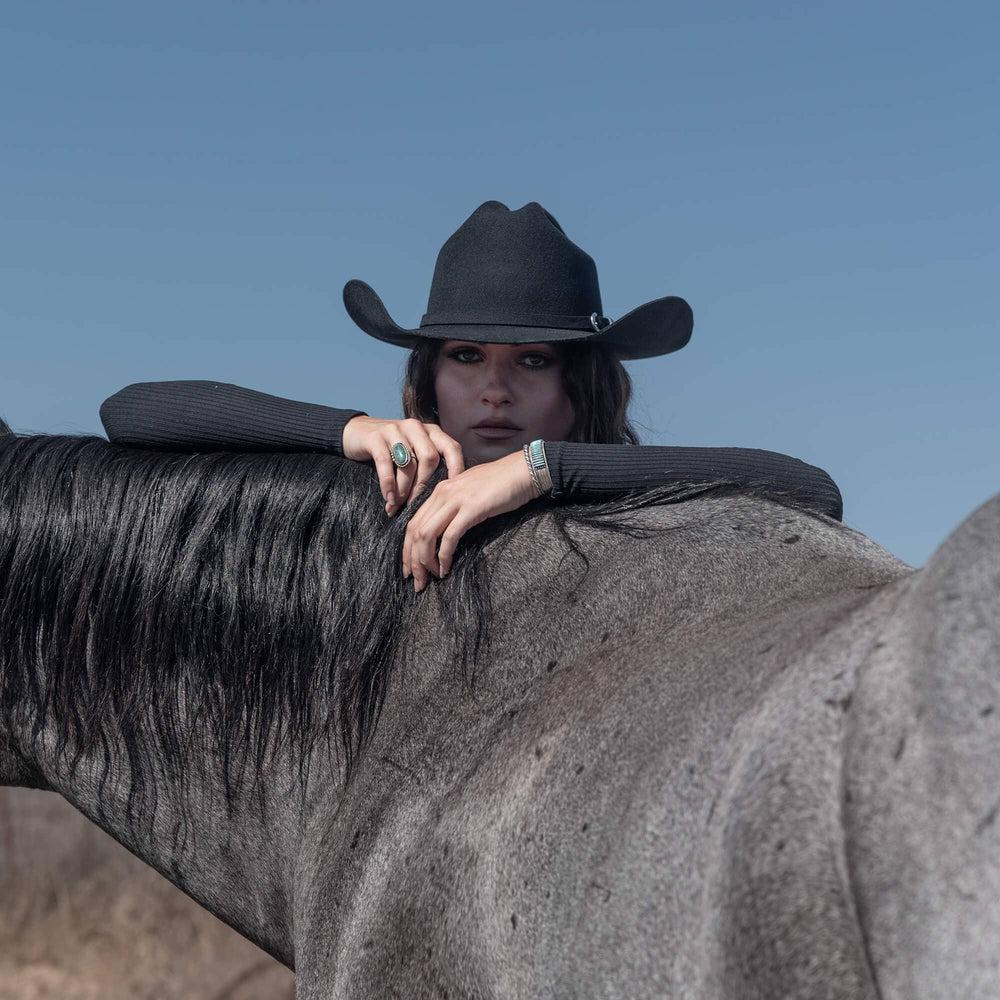 Best for Influencers 
If you want the cowboy hat style that the influencers love wearing, the Cattleman Women's Felt Cowboy Hat is your showstopper. Designed to have that iconic cattleman-shaped crown with a shovel brim, the Cattleman felt hat would have you turning heads. 
The Cattleman comes in several colors and sizes, so you can accessorize it with your outfit of the day. The lightweight felt hat comes in black, brown, gunsmoke, and sand, allowing you to choose your favorite neutral to go with everything. The cowgirl hat does run large, so you'll want to size it down. 
Pros
Lightweight
Multiple neutral colors to choose from
Removable, washable, sweatband
Holds its shape with proper care
Lifetime warranty
Cons
Best for Summer
Are you headed to the beach or to your hometown rodeo this summer? You'll want to wear the Amarillo Women's Palm Open Road Straw Cowgirl Hat. In true classic American style, the Amarillo is the summer accessory you've got to rock. The Amarillo will elevate your summer look, whether you're cruising on a yacht or taking your darling kids to the pool for a day in the sun.
This comfortable, lightweight straw hat has a tight weave and dark leather band to make your look luxe. The Amarillo has a sewn-in sweatband for comfort, and the straw cowboy hat comes in tan, the ultimate summer neutral. The hat runs small, so you'll want to size up for the perfect fit.
Pros
Lightweight
High quality and super cute
Ventilation points
Comfortable sweatband
Holds its shape with proper care
Lifetime warranty
Cons
Best for Summer
If you want a beautiful women's cowboy hat but want something more affordable and comfortable for summer, the Roper Womens Straw Palm Cowgirl Hat is your huckleberry. This super stylish cowgirl hat has a unique brim, feather detail, and thin leather band.
Made for a comfortable fit, this hat is made from high quality palm leaf and has a sewn-in sweatband. The hat comes in its natural color. You'll want to watch the fit because some head types found the fit was too large. 
Thankfully, American Hat Makers will happily send another hat to ensure the perfect fit. Our top-notch customer service is easy to reach and very accommodating.
Pros
Very affordable
Lightweight
Multiple neutral colors 
Sewn-in sweatband
Holds its shape with proper care
Lifetime warranty
Best Cowgirl Style
If you want a straw hat with that quintessential cowgirl style, you'll want a Billings: Women's Cowboy Straw Cowgirl Hat. The Billings' stiff, rigid construction keeps the shape of a traditional cowgirl hat using a durable straw material for lightweight comfort.
With stylish patterned vents and a sewn-in sweatband, your head will keep cool even in the hottest months of the summer. This hat works for daytime and evening, giving your look that added western charm. Fit runs true to size. 
Pros
Lightweight
Very Affordable
Stiff, rigid straw construction that holds its shape
Stylish ventilation points that make a unique band around the crown
Comfortable sweatband
Lifetime warranty
Cons
 Related Link: The Ultimate Guide to Women's Hat Styles
How to Wear Your Women's Cowboy Hat  
Wearing a women's cowboy hat is an excellent way to add playful style to your look. But styling your hat is critical. You'll want to pair your leather or felt cowboy hat with denim for a western look. And this is the perfect time to pull out your Daisy Dukes to really be on trend.
If bohemian is more your style, you'll want to pair your felt or straw hat with a lightweight bohemian blouse and skirt. This is the ultimate look for that summer festival.
Things to Consider When Buying a Women's Cowboy Hat
In the quest for the ultimate women's cowboy hat, several factors must be considered to guarantee that you obtain the perfect accessory that caters to your taste, requirements, and coziness.
Let's delve into the essential factors to ponder upon when purchasing a women's cowboy hat that will captivate attention and highlight your distinct character! 
Related: New Rules of Cowboy Hat Etiquette
Finding the Correct Hat Size
When finding the perfect women's cowboy hat, size does matter! A well-fitting hat looks great and provides comfort while wearing it. So, let's find the right size for your new hat.
Measuring Your Head
Before shopping for that stylish cowboy hat, you must know your head's measurements. Of course, you'll need a soft measuring tape to do this.
Here's a simple step-by-step guide to help you:
Stand in front of a mirror to see what you're doing.
Wrap the measuring tape around your head, ensuring it sits about an inch above your ears and eyebrows, where your hat will rest.
Record the measurement in inches or centimeters.
Remember, it's always better to measure twice and get an accurate measurement to avoid any sizing mishaps.
Hat Sizes and How They Relate to Measurements
Now that you have your head measurement, you can easily find the right cowboy hat size. Most hat sizes are either in inches or centimeters or based on a general sizing chart that ranges from extra small (XS) to extra large (XL).
Here's a general size chart to give you an idea: 
XS: 20.5-21.25 inches (52-54 cm)
S: 21.25-22 inches (54-56 cm)
M: 22-22.75 inches (56-58 cm)
L: 22.75-23.5 inches (58-60 cm)
XL: 23.5-24.25 inches (60-62 cm)
Remember that sizing can vary slightly between brands, so always refer to the retailer's specific hat size chart when buying your cowboy hat.
Additionally, suppose you find yourself in between sizes. In that case, it's generally best to go for the larger size, as you can always adjust the hat's interior band for a snugger fit. 
Keep an eye out for hat makers such as American Hat Makers, known for their hassle-free exchange policies on hats that may need to be a better fit.
Remember, a well-fitting hat looks fabulous and ensures you'll enjoy wearing it. So, grab that measuring tape, and happy hat shopping!
Picking the Right Material
When searching for the ideal women's cowboy hat, paying attention to the material used is vital. The appropriate material can significantly impact comfort, longevity, and fashion.
In this segment, we'll delve into popular materials employed in cowboy hats and offer guidance on selecting the most suitable one for your needs.
Common Materials - Felt, Straw, Leather
Cowboy hats come in various materials, but the most popular are felt, straw, and leather. Each of these materials has its unique benefits and charm:
Felt - Generally crafted from wool or fur, felt cowboy hats are renowned for their lastingness and ability to retain heat. These hats are ideal for chillier seasons or environments, delivering a timeless and refined appearance.
Straw - Straw cowboy hats are airy and light, perfect for sweltering summer days or warmer regions. Available in various designs and weaves, they exude a relaxed and easygoing atmosphere.
Leather - Leather cowboy hats offer a distinctive and fashionable choice with a hint of toughness. With their durability and ability to endure when maintained correctly, these hats make for a valuable addition to your wardrobe. 
Weather-Appropriate Materials
When choosing a material for your cowboy hat, consider the climate and weather conditions where you live or plan to wear the hat.
A felt hat might be perfect for chilly fall days, while a straw hat will keep you cool and comfortable during a summer festival. 
Leather hats can suit various weather conditions if they're correctly cared for.
Durability and Maintenance
When selecting the ideal cowboy hat, it's crucial to consider each material's longevity and care needs.
Felt and leather hats are well-known for their durable qualities. Periodic cleaning and conditioning are necessary to preserve their form and look.
On the other hand, straw hats tend to have a shorter lifespan. However, they generally provide a cost-effective alternative and demand little maintenance. 
To keep your hat looking its best, always follow the manufacturer's care instructions and store it in a cool, dry place, away from direct sunlight when not in use. 
Considering the material when selecting a women's cowboy hat will guide you toward the ultimate accessory that matches your fashion sense, personal tastes, and climatic conditions.
Whether you opt for a classic felt hat, a breezy straw hat, or an elegant leather hat, you'll surely leave an impression with your eye-catching new piece!
Picking the Perfect Brim
Considering the brim width of your women's cowboy hat is crucial when hunting for that ideal accessory. The perfect brim width can elevate your outfit, accentuate your facial features, and offer sun protection.  
Let's explore how to determine the best brim width for your cowboy hat!
Standard Brim Widths
Cowboy hat brims come in various widths, typically ranging from 3 inches (7.6 cm) to 4.5 inches (11.4 cm). 
Here are some common brim width categories to help guide your decision: 
Narrow brim: 3-3.5 inches (7.6-8.9 cm)
Medium brim: 3.5-4 inches (8.9-10.2 cm)
Wide brim: 4-4.5 inches (10.2-11.4 cm)
Factors Affecting Brim Width Choice
When selecting a brim width, consider the following factors: 
Face Shape - The brim width can help balance and complement the shape of your face. For example, a wider brim can create a more balanced look for those with a round or square face, while a narrower brim may be more flattering for those with an oval or long face.
Style - Your style also influences your brim width choice. A medium brim may be your best bet if you prefer a classic, traditional look. You might opt for a wide brim for a more fashion-forward, statement-making style.
Sun Protection - Wider brims provide more shade and sun protection for your face and neck, which can be especially helpful during hot summer months or outdoor events.
By selecting the perfect brim width for your women's cowboy hat, you'll enhance your overall look and find a hat that truly reflects your unique style and personality.
Related: How to Clean Your Straw Cowboy Hat
Best Cowgirl Hats - Final Thoughts
Cowboy hats are a perfect accessory for staying out of the sun and showing your playful, unique personality. Leather, felt, or straw, these cowboy hats are very versatile for daily errands or a night on the town. You really can't go wrong. 
American Hat Makers is a leading hat designer in the United States. You'll love the style, fit, and comfort our hats offer with attention to detail and high-quality materials. We also provide the best customer care and a lifetime warranty on all our cowboy hats.
Hats make the best accessory for any outfit. Shop our full line of women's hats.