Discover a timeless classic with our mens trilby hats. Each trilby hat adds an air of handcrafted elegance, providing a tasteful touch to any outfit.
The American Hat Makers Difference
If you're on the hunt for a premium trilby hat for men, your search ends at American Hat Makers. As a leading manufacturer, we distinguish ourselves from others in the industry with our unique hat designs and unparalleled craftsmanship.

At American Hat Makers, our expertise lies in sculpting the perfect men's trilby hats. We also meticulously handcrafted grey trilby hats, brown trilby hats, and even the straw trilby hat mens style, all of which showcase a distinctive flair. We are the only hat maker offering such a wide variety of trilby styles, making us your one-stop-shop for this timeless accessory.

We offer a broad range of sizes and colors to accommodate individual preferences. Whether you're in search of a specific style, a mens summer trilby hat, or a unique large trilby hat, American Hat Makers is the ultimate source for all your trilby hat needs.

Our hats are meticulously crafted using only top-quality materials, promising durability and longevity. Your trilby hat from American Hat Makers is guaranteed to stand the test of time, providing you with endless satisfaction over the years.

HANDMADE SINCE 1972
Since 1972, American Hat Makers have been committed to handcrafting exceptional trilby hats. With an acute eye for detail, we ensure that our trilby hats are created using the most exquisite materials available.
Our commitment to quality ensures that our mens trilby hats possess an unmatched and superior character. Despite a market saturated with imitations, only at American Hat Makers can you secure an authentic trilby hat.
A stylish trilby hat from American Hat Makers is the ideal choice, combining both functionality and timeless appeal.
AMERICAN CRAFTSMANSHIP THAT LASTS
When it comes to finishing a sophisticated ensemble, mens straw trilby hats make the perfect accessory. However, it's essential to note that these hats require expert construction to ensure they resist quick wear and tear.
At American Hat Makers, we specialize in crafting straw trilby hats built to last. Using only high-quality materials, we take immense pride in creating trilby hats that embody our love and respect for our craft.
Find the Perfect Trilby
Shop the Best Mens Trilby Hats for Sale Online
With so many different men's trilby hat styles and brands available, it can be difficult to find the right trilby hat online. You might risk buying a hat that doesn't quite suit your style or that doesn't get much wear.

At American Hat Makers, we simplify the process of finding the perfect trilby hat for you. Among our extensive selection of trilby hats, we offer some of the industry's best, and our friendly staff is always ready to help you find the right one.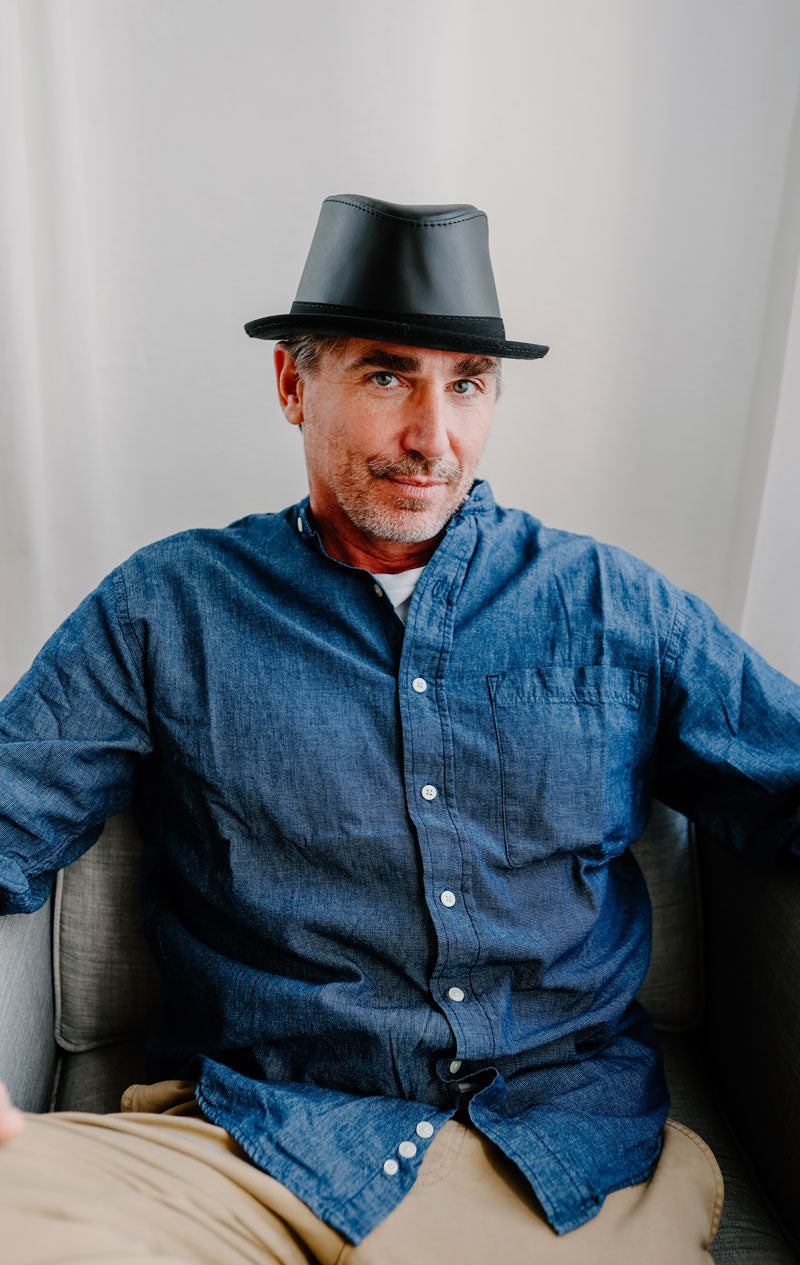 Timeless Elegance
A Symbol of Modern Sophistication
Experience our men's trilby hats - classic icons with a contemporary twist. The trilby hat for men is designed for the stylish, confident gentleman. A fusion of tradition and innovation, these hats elevate any ensemble.
Each trilby hat we offer bears our legacy of American craftsmanship. Their versatility allows a perfect fit for all occasions. Dive into the world of men's trilby hats, and find a reflection of your personal style.
Handcrafted Perfection
Comfort and Style in Every Stitch
Our trilby hats are the epitome of handcrafted perfection, stitched with care and precision. Each trilby hat men's collection piece ensures comfort, making a statement while keeping you cozy. The selection offers a variety of sizes, catering to everyone with small trilby hats to large ones.
We believe in delivering not just a hat, but a heritage of quality. Choose a black trilby hat for an iconic look or explore our other color options. Immerse yourself in the world of trilbies and define your own style.
Tradition Meets Innovation
Carry Your Confidence with Ease
The mens trilby hat is more than a piece of attire; it's a confidence booster. Our trilby hats for men are a testament to tradition coupled with contemporary style. Their lightweight design and perfect fit make them an essential addition to your wardrobe.
With a trilby fedora hat from our collection, you step into a legacy of elegance. Experience the blend of American heritage and modern fashion with our trilby hats. Elevate your style quotient today with the finest hats in America.
Artistry and Authenticity
Embrace Your Unique Style
Every trilby hat from American Hat Makers is an authentic piece of wearable art. Each mens trilby hat is designed to exude personality and style. The trilby fedora hat, a classic staple, brings a timeless charm to any look.
Whether you prefer a large trilby hat or a small one, we've got you covered. We promise not just a hat, but a style companion that lasts a lifetime. Choose your trilby and step into a world of style and comfort.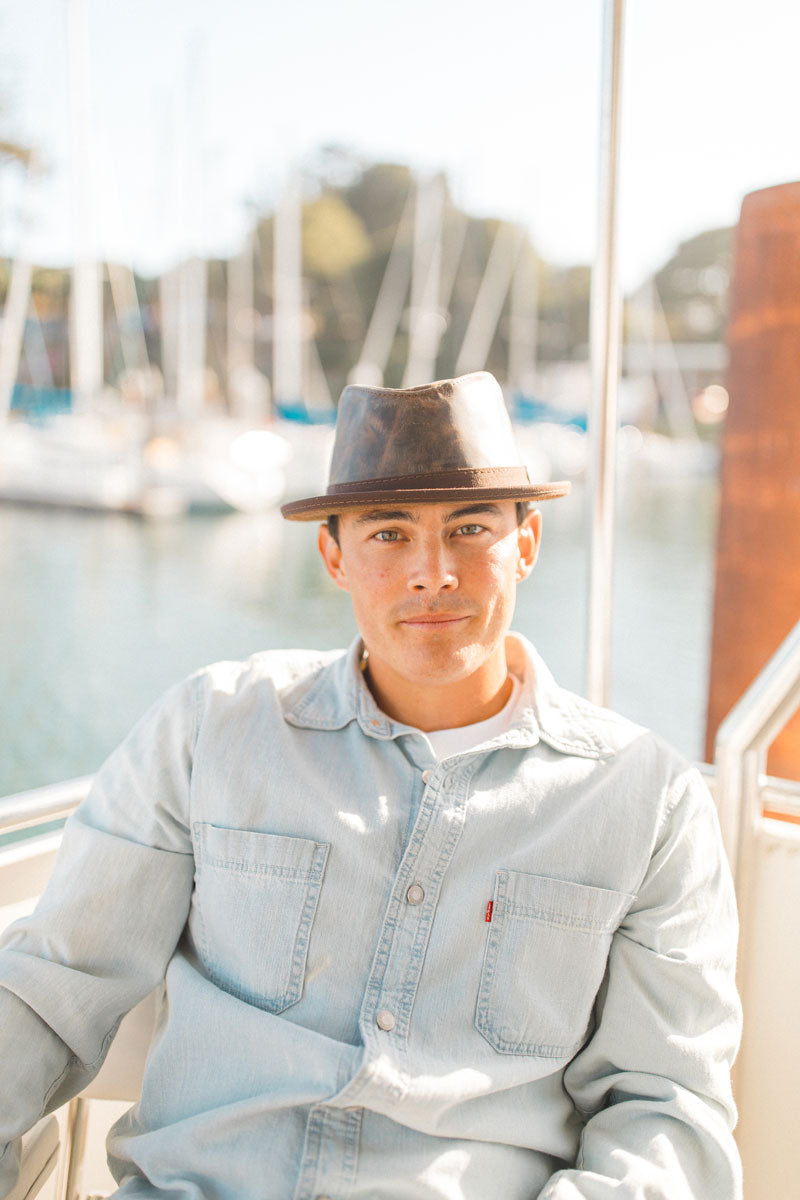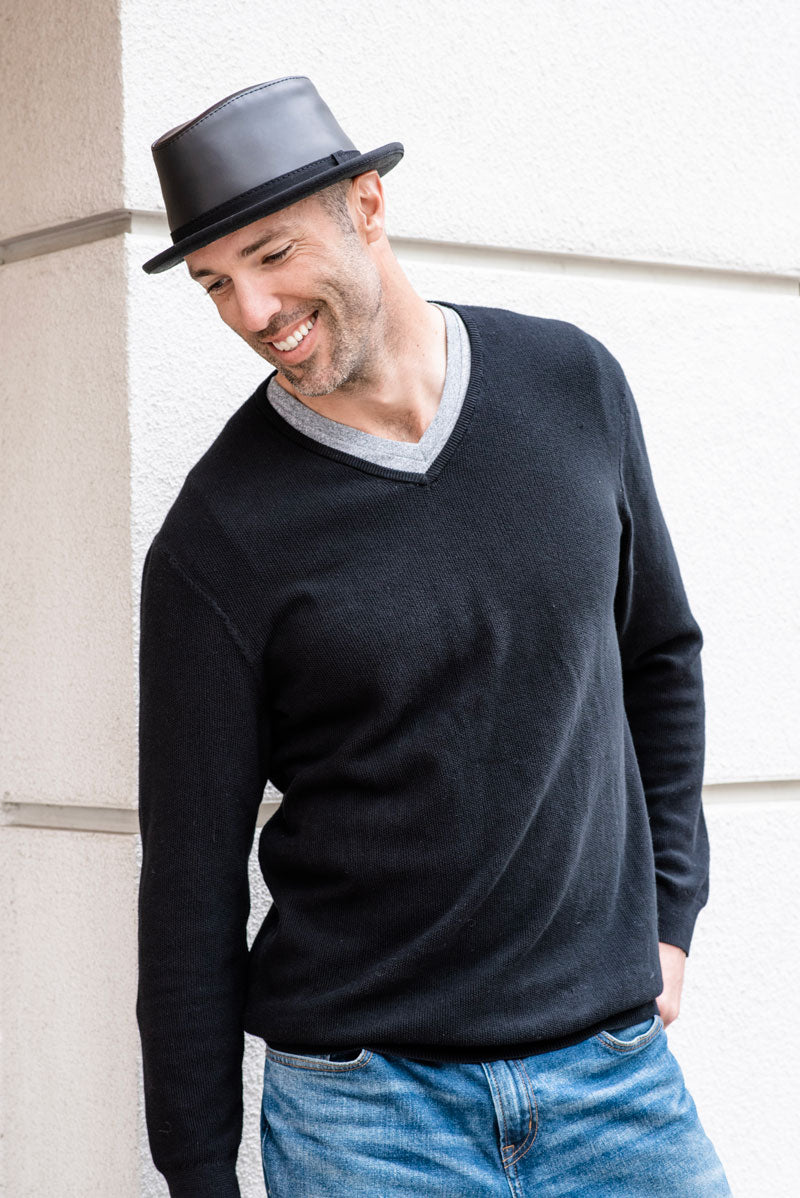 Hats that Speak Volumes
A Testament to Timeless Taste
When you choose one of our trilby hats, you're choosing a product steeped in family tradition. The craftsmanship in each men's trilby hat is a reflection of our dedication to quality. From black trilby hats to colorful variants, we provide a plethora of choices.
We craft hats that are not only fashion statements but also companions for life. We, at American Hat Makers, invite you to find your perfect trilby hat. Your journey of elegance and sophistication begins here.
Tailored for the Connoisseur
A Treasure Trove of Classic Trilbies
Our collection of trilby hats is designed for the discerning gentleman. Whether it's a black trilby hat or a boldly colored one, we craft each hat to perfection. The men's trilby hats we offer are timeless pieces that enhance your wardrobe.
Each hat is a perfect blend of comfort and style, curated with precision. So why wait? Immerse yourself in the world of trilbies, crafted by American Hat Makers. Discover a hat that resonates with your personality and taste.
Trilby Hats FAQ
The primary difference between a Fedora and a Trilby lies in the brim and the crown. A Fedora typically has a wider brim, approximately 2.5 inches wide or more, and the crown is taller with an indented shape. On the other hand, a Trilby has a shorter brim, around 1-2 inches wide, which is usually sharply turned upwards at the back. Its crown is also shorter compared to a Fedora.
The Trilby hat is named after the 1894 novel "Trilby" by George du Maurier. In a stage adaptation of the novel, one of the characters wore this type of hat, and it became associated with the character's name, thus called a Trilby.
Frank Sinatra is well-known for his signature Fedora hats. He often wore a Fedora as part of his stylish and suave persona. While he may have worn different types of hats on occasion, it was the Fedora that became most associated with his image.
A Trilby hat is a type of hat that features a narrow brim and a deeply indented crown. The brim is usually sharply turned upward at the back. The Trilby originated in the 19th century and was popularized through a character in George du Maurier's novel "Trilby".
A Trilby can be worn in different ways, depending on personal style. Traditionally, it is worn tilted slightly to one side and pulled down over the forehead. The back brim is generally turned upwards. However, in modern fashion, you can also wear it level on the head or tipped back slightly.
The choice between a Trilby and a Fedora largely depends on personal style and the situation. A Fedora might be more appropriate for formal occasions with its wider brim and tall crown providing a more sophisticated look. A Trilby, with its shorter brim, is often associated with a more casual, modern style. Consider the shape of your face, your outfit, and the occasion when choosing between the two.