Revel in vintage flair with our mens newsboy caps. Every newsboy cap and newsboy hat is a nod to classic sophistication, seamlessly tailored for the modern man.
The American Hat Makers Difference
If you're on the hunt for the quintessential men's newsboy cap, look no further than The American Hat Makers. Our unmatched craftsmanship and meticulous attention to detail position us as the leading authority on quality newsboy caps.
At American Hat Makers, our expertise shines in sculpting both classic newsboy silhouettes and fresh, modern takes on this iconic cap. We take pride in being the sole hat maker boasting such an expansive variety of newsboy cap designs for men, making us the ultimate hat destination.
Our collection spans a broad array of sizes and hues, ensuring a perfect fit for every gentleman's taste. Whether it's a timeless black newsboy cap, a traditional cabbie hat, or a bold and contemporary design, The American Hat Makers remain unparalleled in choice and quality. Every newsboy cap we craft employs only the most superior materials, promising enduring style and longevity.
When you opt for a newsboy cap from American Hat Makers, you're securing timeless elegance that will grace your wardrobe for years to come.
HANDMADE SINCE 1972
Since 1972, The American Hat Makers have dedicated themselves to the masterful creation of men's newsboy caps. Our meticulous attention ensures each cap is crafted from the most premium materials.
Despite numerous imitations, true authenticity is found only with American Hat Makers. A newsboy cap from us seamlessly blends timeless charm with everyday utility.
AMERICAN CRAFTSMANSHIP
When it's about elevating your ensemble, men's newsboy caps from American Hat Makers stand out as the paramount choice. Quality is paramount; a cap not meticulously made can show wear swiftly. Each of our newsboy caps is treated with precision to ensure remarkable durability, even in unpredictable weather. At American Hat Makers, our hats aren't just accessories, they're a testament to our passion and dedication to the craft.
Find the Perfect Newsboy Cap
Shop the Best Mens Newsboy Caps for Sale Online
Newsboy caps are a timeless men's fashion staple, yet selecting the ideal one can prove elusive. With an array of styles and brands in the market, settling on the perfect newsboy cap online might seem daunting. There's always the risk of choosing a cap that doesn't resonate with your style or remains untouched in your collection.
At American Hat Makers, we streamline your quest for the ultimate newsboy cap. Our extensive range of men's newsboy caps showcases industry-leading designs, and our dedicated team is always at your service to guide your selection.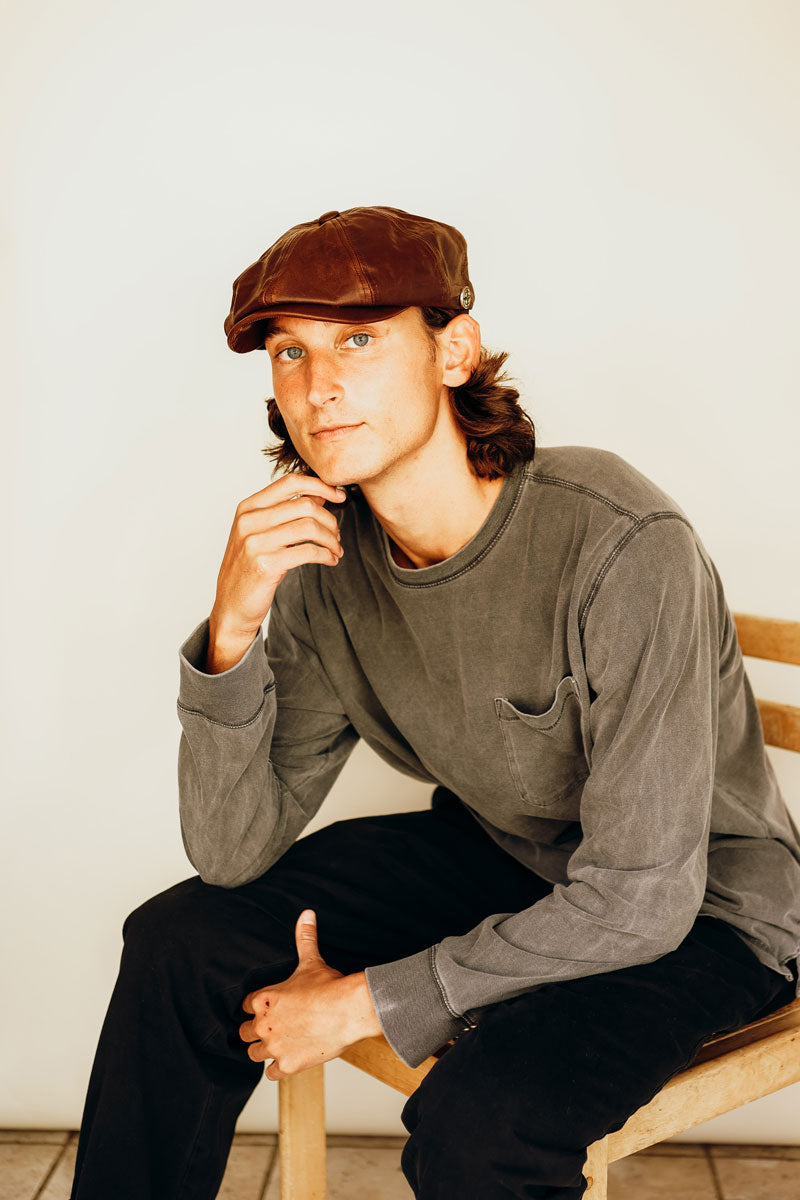 Embrace Vintage Vibes
Timeless Elegance with Every Newsboy Cap
For the discerning gentleman, the newsboy cap is more than just an accessory—it's a statement of class and heritage. At American Hat Makers, our men's newsboy caps encapsulate a rich history, seamlessly merging old-world charm with contemporary craftsmanship.
Whether it's the classic newsboy hat, the vintage cabbie hat, or the iconic paperboy cap, our collection promises unmatched quality and style. With each stitch and fold, we uphold a legacy, ensuring that every man can wear history with pride.
Retro, Reimagined
From Paper Routes to Modern Streets
Every newsboy cap tells a story, from bustling city streets to serene countryside corners. With roots deep in tradition, our paperboy hats and cabbie caps are meticulously handcrafted to honor their storied past.
Combining the finest materials with unmatched craftsmanship, we ensure every newsie hat remains an emblem of sophistication. Explore our collection, where vintage meets modern, and let the tales unfold.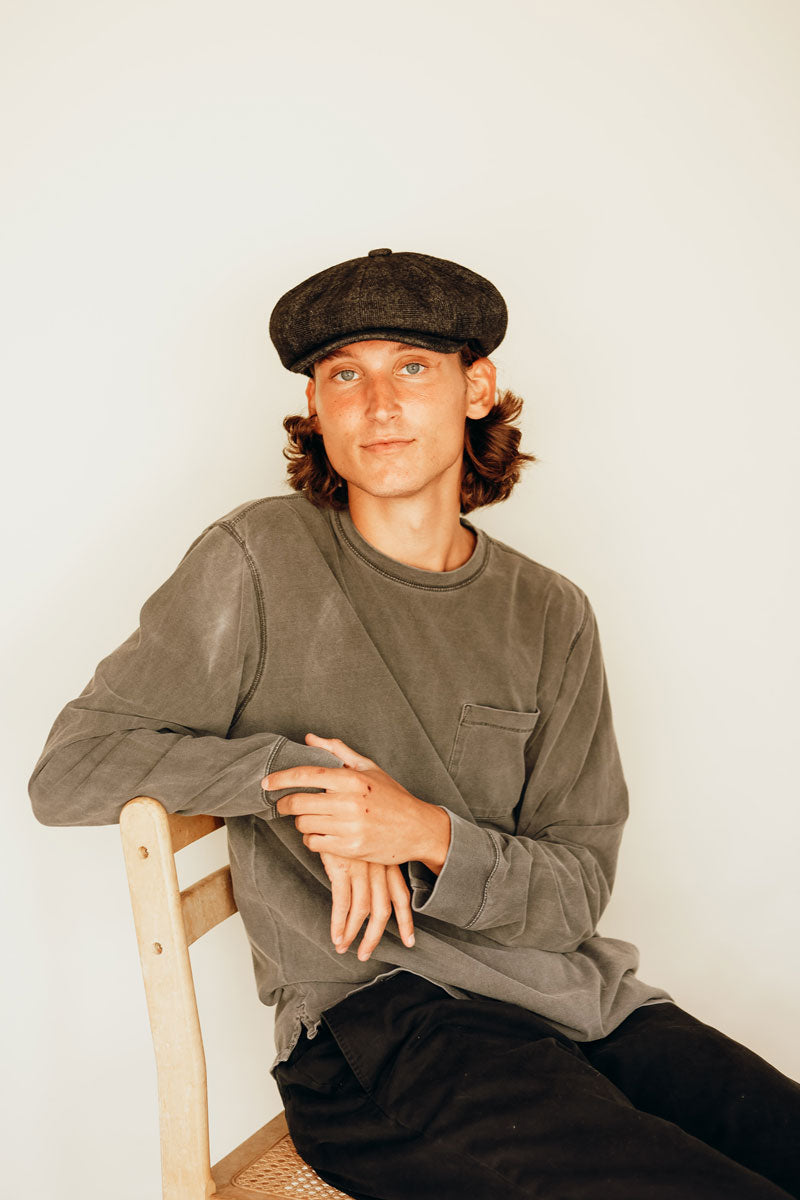 Old School Cool
Classic Styles, Uncompromised Quality
Channel the spirit of yesteryears with our curated collection of men's newsboy hats. Each hat, whether it's a pageboy hat or a cabby cap, is a testament to timeless fashion and unparalleled quality.
Our dedication to excellence ensures that while trends may come and go, the charm of a well-made newsboy cap remains eternal. Dive into a world where history and style collide.
A Nod to the Classics
Craftsmanship That Speaks Volumes
There's a reason the newsboy cap has endured through the ages. It's more than just a hat—it's a symbol of style, tradition, and character. Each mens newsboy cap from American Hat Makers is a piece of art, crafted with precision and passion.
Whether you're channeling the newsies of old or just adding a touch of vintage flair, trust that our collection is the epitome of authenticity.
Evoke the Past, Wear the Future
Celebrating a Timeless Tradition of a Newsboy Hat
The legacy of the newsboy hat is alive and well at American Hat Makers. Each cabbie hat and newsie cap we craft is a nod to the past while being tailored for today's trendsetter.
Our commitment to quality and heritage means that every hat is a blend of traditional artistry and modern innovation. Revel in the nostalgia, but wear it with a contemporary twist.
From Headlines to Headwear
Stories Woven with Every Cabbie Cap
The allure of the cabbie cap lies in its rich tapestry of tales—from newspaper boys of yore to the modern man's wardrobe essential. Our newsboy hats for men are not just accessories; they're stories waiting to be told.
With meticulous attention to detail and a passion for history, we craft each hat to be a conversation starter. Don your cabbie cap, and let the stories begin.
Newsboy Cap FAQ
Wearing a newsboy cap is all about confidence and personal style. Typically, the newsboy hat is worn tilted slightly to one side. The brim can be snapped to the front or left unsnapped for a looser look. Pair it with casual or semi-formal outfits to add a vintage touch. For those looking for a distinct style, mens newsboy caps come in various materials and patterns to suit individual preferences.
A newsboy cap, sometimes referred to as a cabbie hat, pageboy hat, or paperboy hat, is a rounded cap with a small stiff brim in front. It's traditionally made of tweed or wool and has a button on top. This style of hat gained popularity among newspaper boys, hence the names like newspaper boy hat and newsies hat.
Styling a newsboy cap depends on the occasion and your personal style. For a casual look, pair the newsboy hat with jeans, a simple tee, and leather shoes. For a more sophisticated look, combine the mens newsboy hat with a blazer or trench coat. Don't forget to play with the tilt and angle of the cap to find the look that suits you best.
The newsboy cap originated in the UK and Ireland in the late 19th and early 20th centuries. It was a common headwear choice among working-class men, particularly young boys who delivered newspapers, giving rise to names like paperboy cap and newsie cap.
Both the flat cap and newsboy cap share British origins and have a rounded shape with a front brim. The primary difference is in their construction. While a flat cap is made from a single piece of fabric and lies flat against the head, the newsboy hat has a baggier, paneled construction with a button on top. Essentially, the newsboy cap has more volume and a rounder shape compared to the sleeker flat cap.
Newsboy hats for men have historically been associated with working-class attire but over time have transitioned into a symbol of style and individuality. Many men appreciate the mens newsboy cap for its vintage appeal, comfort, and versatility in complementing various outfits. Plus, brands like American Hat Makers offer a range of newsboy caps that elevate the classic design, making it a fashionable choice for modern men.
Wearing a flat cap, similar to donning a cabbie cap or cabby hat, has evolved over the years. Historically, it was a staple among the working class in the UK and Ireland. In modern times, it's become a symbol of style, sophistication, and sometimes a nod to heritage. The cap doesn't necessarily carry a specific meaning but represents a blend of tradition and fashion.