Mens Baker Boy Hats and Caps
Step out in timeless style with our mens baker boy hats and caps. Each baker boy hat brings traditional charm with modern design for a standout look.
The American Hat Makers Difference
If you're in search of the quintessential baker boy hat, look no further than The American Hat Makers. Known for our meticulous craftsmanship and eye for detail, we stand as the go-to destination for high-quality men's baker boy hats and caps. Here at American Hat Makers, we seamlessly blend classic silhouettes with modern designs to cater to all fashion-savvy individuals. Our varied collection offers an extensive range of sizes and colors, each tailored to accentuate your unique style. Whether you seek a timeless baker boy cap or a contemporary twist on the classic, we offer an unmatched selection and quality. Each baker boy hat is crafted from premium materials, ensuring both durability and impeccable style. When you choose a baker boy hat from American Hat Makers, you're investing in a timeless piece that will elevate your wardrobe for years to come.
HANDMADE SINCE 1972
Since 1972, The American Hat Makers have been experts in creating mens baker boy caps. Our commitment to quality is evident in every stitch, utilizing only the finest materials for each baker boy cap. In a marketplace full of choices, the unparalleled craftsmanship of American Hat Makers stands out. With us, you choose a baker boy hat that seamlessly combines tradition with modern-day functionality.
AMERICAN CRAFTSMANSHIP
When you're stepping out in style, mens baker boy hats from American Hat Makers are the go-to choice. Quality isn't just a word for us; a poorly made baker boy hat can easily fall short. Every hat we craft is designed for long-lasting appeal and functionality. At American Hat Makers, our mens baker boy hats are more than just accessories; they represent our enduring commitment to top-notch craftsmanship.
Find the Perfect Baker Boy Hat
Shop the Best Mens Baker Boy Hats for Sale Online
Baker boy hats and caps are a must-have for anyone seeking a blend of style and function, but landing the perfect one can be a task. With a myriad of designs and labels on offer, picking the right baker boy hat online can be daunting.
You could risk choosing a hat that doesn't quite match your style or simply never makes it out of the closet. At American Hat Makers, we make your search for the ultimate baker boy hats and caps straightforward. Our extensive collection showcases the finest designs, and our experienced team is always on hand to help you secure the perfect fit.
Classic Meets Casual
Elevate Your Style with Timeless Elegance
Do you have an eye for classic styles but a heart set on contemporary ease? Look no further than our collection of men's baker boy hats. With designs inspired by the traditional newsboy caps, these hats are perfect for anyone seeking to inject a bit of old-world flair into modern life.
They're not just about looks; their comfort and durability make them everyday essentials. Crafted with high-quality materials, these hats are an ideal blend of form and function. Every stitch speaks to the craftsmanship that goes into each hat.
Versatile Style
The Go-To Hat for Any Occasion
It's rare to find a hat that can effortlessly float between casual and formal settings, but that's precisely the charm of our baker boy caps for men. Whether you're heading out for a casual Sunday brunch or stepping into a business meeting, these caps are your perfect companion.
Their versatility knows no bounds, complementing any outfit and setting. With a variety of materials and designs, you can find the perfect fit for any occasion. The soft lining ensures comfort, while the adjustable straps provide the perfect fit. So go ahead, make it your signature look.
Quality Matters
Built to Last, Styled to Impress
When it comes to headwear, you shouldn't have to choose between style and substance. Our baker boy hats offer both in spades. Crafted with attention to detail and a focus on durability, these are caps you'll be wearing for years to come.
The high-quality materials ensure that your hat retains its shape and appeal, all while providing maximum comfort. The reinforced brim and crown add extra durability, ensuring that you look good now—and for years to come. Invest in quality; you won't regret it.
A Hat with History
Rekindle the Golden Era with Modern Sensibilities
Baker boy hats have a history that stretches back to the working-class streets of early 20th-century Europe. But don't let the historical roots fool you; these caps are as relevant today as they were back then.
Our modern takes on this classic design give you a piece of the past that fits perfectly into today's fashion landscape. The blend of nostalgia and modernity makes for a hat that's both trendy and timeless. They evoke a sense of classic style that's still relevant in today's fast-paced world. Wear a piece of history with pride.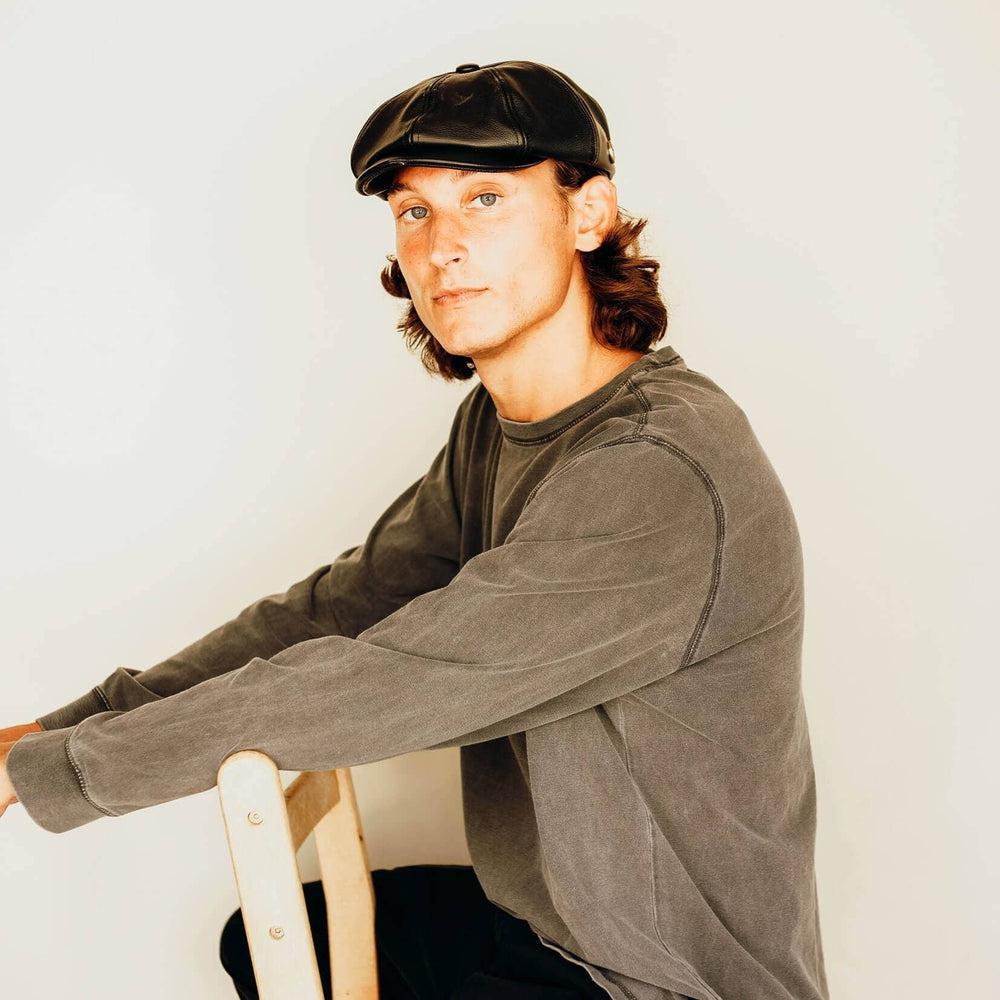 For the Discerning Man
Take Your Everyday Style to the Next Level
Let's be honest, any hat can provide shade or a bit of warmth, but it takes a special kind of hat to elevate your style. For men who understand the power of subtle sophistication, our baker boy hats are more than just accessories. They are a statement of individuality and a nod to those who appreciate the finer things in life.
Wearing one instantly ups your style game, turning everyday looks into showstoppers. With sleek lines and top-notch materials, these hats are made for those who demand the best. Step out in confidence, knowing you're effortlessly stylish.
Effortless Cool
The Cap That Says You Don't Try Too Hard
Some men just seem to have an effortless sense of style. If that's the vibe you're going for, then a baker boy hat is the accessory you need. With just the right blend of casual cool and refined elegance, these hats say that you know how to look good without really trying.
Slip one on and let the hat do the talking. Their understated charm lets you make a statement without shouting. And isn't that the essence of true style?
Baker Boy Hat FAQs
A baker boy hat, also known as a newsboy cap or baker boy cap, is a classic style that features a round, full shape and a small brim or visor at the front. It's a versatile hat often made from materials like tweed, wool, or cotton.
Our mens baker boy hats come in a variety of colors, including classic shades like black, brown, and grey, as well as more vibrant options depending on the season and collection.
We offer sizing guides on our website to help you find the perfect fit for your baker boy hat. Measuring your head circumference will give you an accurate size. Our customer service team is also available to assist you with any sizing queries.
Some of our baker boy hats come with adjustable straps or elastic bands for a comfortable fit. Please refer to the individual product pages for specific information on adjustability.
baker boy hats are quite versatile and can be paired with casual outfits like jeans and a t-shirt, or more formal attire like a suit. They add a classic yet fashionable touch to any ensemble.
Yes, we have a flexible return and exchange policy for all our hats, including the mens baker boy hats. Please refer to our return policy on the website for more details.