Turn heads with our cowgirl hats. These womens western hats are a statement of independence, style, and adventure - a true cowgirl hat for today's trends.
The American Hat Makers Difference
The choice of hat maker for your next cowgirl hat can truly make a difference, and that's exactly what we strive for at American Hat Makers. When you adorn yourself with one of our hats, you will immediately sense the exceptional quality of craftsmanship. The question then becomes: How can American Hat Makers make a difference in your life today?

By choosing an American Hat Makers hat, you are investing in a piece that not only enhances your style but also reflects our commitment to unparalleled craftsmanship. Our hats are meticulously handcrafted with the utmost attention to detail, ensuring that each one is a testament to our dedication and passion. When you wear an American Hat Makers hat, you can be confident that you are wearing a symbol of exceptional quality and timeless style, making a difference in your life with every wear.
HANDMADE SINCE 1972
A casual inquiry into "how to make a cowboy hat?" sparked what would become a lifelong interest in headwear construction. We take great pride in our extensive inventory, high-grade components, and stylish designs. Since 1972, we've been handcrafting authentic cowgirl hats. You'll immediately realize that we take pride in being the greatest hat manufacturer in the nation, thanks to our years of experience and dedication to our craft.
AMERICAN MADE TO LAST
As an iconic symbol of American fashion, cowboy hats have stood the test of time, embodying both timeless style and unparalleled fashion. We understand the essence of hand made cowgirl hats—functional, comfortable, and tailored to perfection—and it's our specialty to deliver just that.

Our hats are exquisitely handmade, each one brimming with its own unique character, ready to accompany your adventurous spirit. From our Vaquero styles, paying homage to tradition, to our elegant white cowboy hats designed for the ladies, an American Hat Makers cowgirl hat is crafted to endure the trials of time. When you choose one of our hats, you're choosing a piece of craftsmanship that seamlessly blends fashion and durability, creating a lasting companion for your journeys.
Iconic Style | Classic Fashion
Shop the Best Cowgirl Hats for Sale Online
Cowgirl hats are a brilliant statement piece for any powerful, brave woman! From the western cowgirl to the cute cowgirl and women who want to show off a little American spirit, we have many styles, shapes, and colors of western-style hats for women! There are cowboy hat styles available for every woman.
Whether going out for date night or working on the farm, our cowgirl hats encourage women to work and play hard. We at American Hat Makers pride ourselves on the joy and uniqueness we deliver with our cowboy hats for the ladies.
Cowgirl hats are a popular accessory, easy to stylize, and should last a lifetime when made of superior quality. We at American Hat Makers provide many women's western hats, cowgirl hats, and cowboy hats for women. Different styles for girl cowgirl hats will match your personality or alter ego.
Let's look at all the things a Cowgirl hat can do for you!
Straw Cowgirl Hats
Sunny-day ready with lightweight charm for effortless style.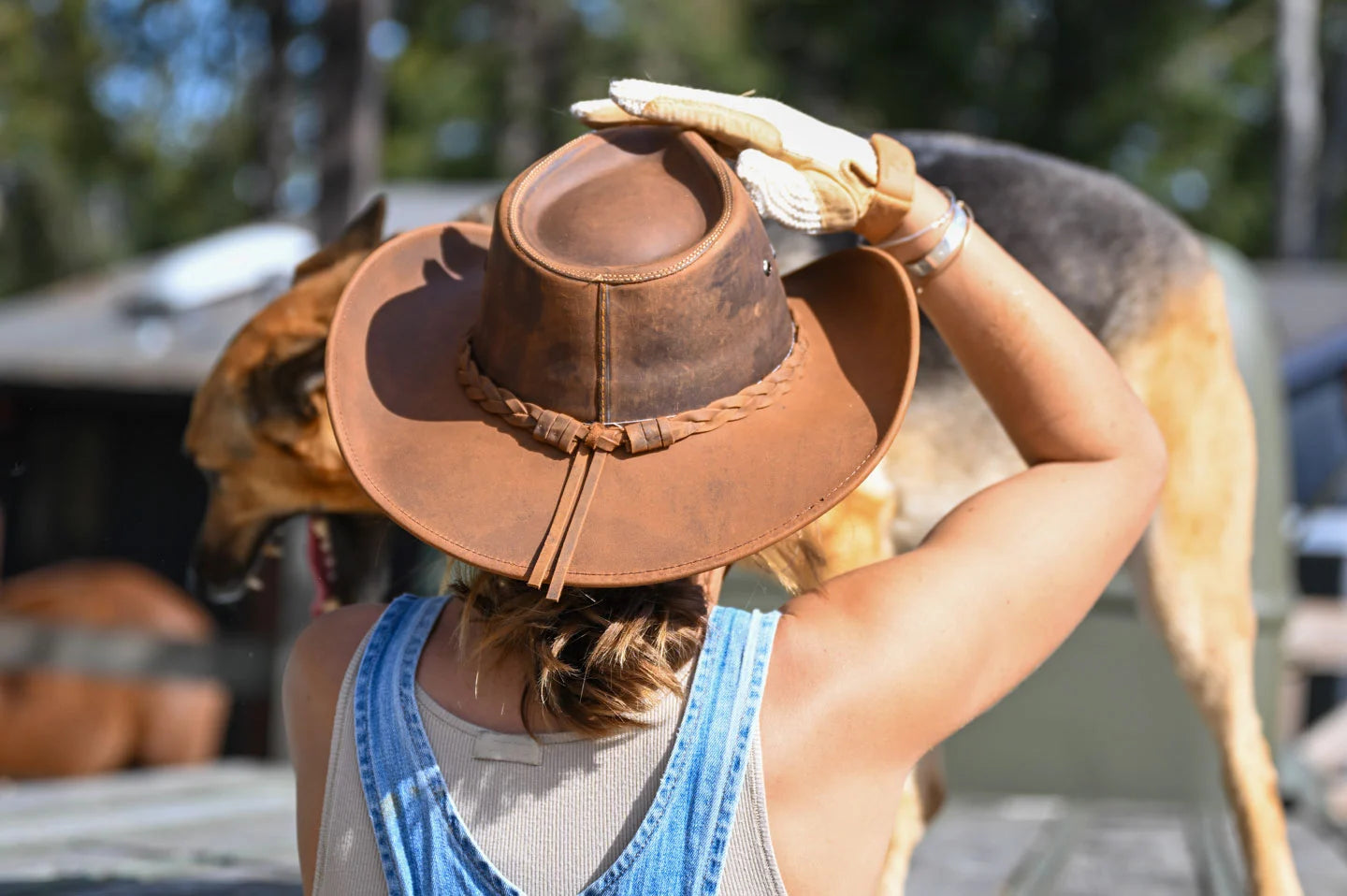 Leather Cowgirl Hats
Embrace adventure with our durable, fashion forward picks
Fun & Fashionable Women Cowboy Hat Styles
We have many options to choose from if you're looking for a more fashionable western cowgirl hat! Cowboy hats aren't just old wild west hats. There is a style, size, and color for every woman.
Black cowgirl hats make you look and feel indestructible and mysterious when paired perfectly with fun or fashionable attire. A more elegant white cowboy hat for women gives the allure of feminine beauty.
Western hats for women don't have to be all about the ranch. You can wear these hats anywhere, in any condition, or keep the perfect cowboy hat for the perfect occasion. These cowgirl hats inspire women to have fun fashionably when adorned with ribbons or bows.
Perfect for a Rodeo or Country Night Out
When you envision an exquisitely crafted traditional western hat, a brown cowgirl hat may come to mind. But, we encourage women to find the western cowgirl hat that represents their most authentic selves.
The perfect Rodeo hat or country hat makes you feel empowered, confident, and ready to enjoy the allure of country night activities. 
From classic styles to leather or felt cowgirl hat materials, there's an option for you in our online store. Look the part or stand out from the crowd adorned with our exquisitely handcrafted cowgirl hats.
Striking, iconic, & ready for action
American Hat Makers Has Your Style
We know that selecting your women's cowboy hat is an extremely personal decision and our careful craftsmanship will ensure you have an iconic piece to add to your legacy western collection. Opt for a traditional beige, brown, or black women's cowboy hat for a piece that will pair with everything and never go out of style. Or share your individual flair with vintage coloring and stylized holes in the crown for ventilation. 
With high crowns and wide brims, our women's cowboy hats shield you from harmful sun rays and protect you from the elements. Many of our styles come with mesh, open-weft, or metal-grommet breezeways for optimal airflow. They will keep you cool in the summer, warm in the winter, and can even be used to fan the flames of your campfire as you regale friends with stories of adventures past.
Associated with cowboys and ranch workers in the western and southern United States, cowboy hats are still the perfect piece for a long day out in the field. But this enduring style has evolved as a much more versatile piece. As American pride and the popularity of country music spread across the nation, cowboy hats also traveled from rural ranches to city streets. 
Now women's cowboy hats are sported by cowgirls, country singers, pop stars, socialites, and fashionistas alike. It's not only functional outdoor wear, it's an ode to your American roots. It's striking, iconic, and ready for action.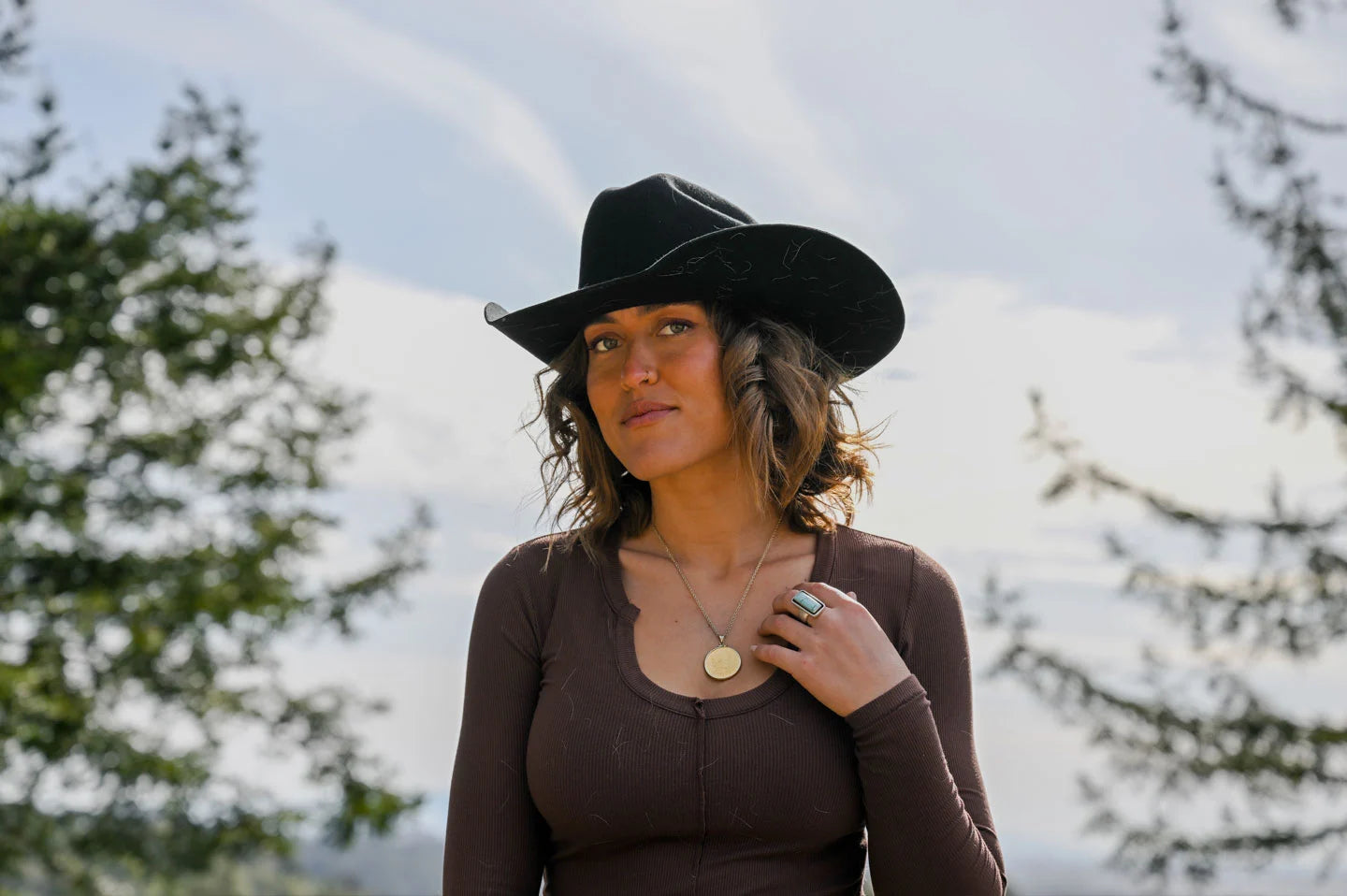 Black Cowgirl hats
Exuding power and grace, the symbol of timeless elegance.