Wearing a hat can add style to your outfit and make your outfit look more put together. Hats can make you stand out from the crowd, help you hide a bad hair day, and improve your appearance.
Many hats also serve a functional purpose, as they can help block out the sun's intense rays. But, what should you do if you have a big head and regular hats don't seem to fit you?
You don't need to go hatless just because you have a larger-than-average head size. Read this guide to discover the best hats for big heads.
The Best Hats for Big Heads
We've compiled a list of the best hats for big heads to help you start your search. We recommend looking into each of these products to find one that suits you best.
American Hat Maker offers a vast collection of men's hats for big heads. One of its top-selling hats is the Cabana Hat, which comes with a broad, breathable brim. The hat offers UPF 50+ UV sun protection and 360° ventilation, providing you with shade and comfort on a warm day.
The Cabana Hat is available in four colors: ivory, black, walnut, and steel. You can order the hat in sizes small - 3X. If you don't know how to measure your head, you can find a video tutorial on how to do so under the product description.
We offer free exchanges as you need (90-day window per exchange), so you can keep trying on hats until you find the perfect fit.
Another great hat to check out is the Real Deal Brazil Tarp Hat. The hat is made from recycled tarp, so you'll be doing your part in helping the environment by purchasing this hat.
The Real Deal Brazil hat is a cross between a fedora and an Australian Outback hat, so you get the best of both worlds. Because the hats are made from a recycled tarp, each has unique characteristics, stitching, and patches, so you'll genuinely own a one-of-a-kind hat!
The Brazil Tarp hat fits sizes 8.25 to 8.5 and comes with a 3-inch wired brim.
The Cyclone leather cowboy hat from American Hat Makers brings a handcrafted pinch on the crown for a Double G Western appeal. It also has a leather hat band that accentuates this classic-looking cowboy hat.
Our Cyclone leather cowboy hat has a 3" brim and 4" crown with a boldly curved, classic shape and has a removable leather sweatband to keep you cool when out on the trail.
It's constructed with texture top-grain cowhide and comes in sizes from Small to 2XL. It also comes in various colors, including Cobblestone, Burnt Honey, Firewater, Asphalt, and Blacktop.
This beautiful cowboy hat is handmade and ships in 1 day.
Stetson Bozeman Outdoor Hat is a classic choice for a ready to work hat. It has a 3 1/4" brim and a 4" crown with a Drilex Leather Sweatband built in.
Naturally water-resistant and featuring a large brim, the Bozeman offers plenty of protection from the elements. This is a hat for camping, fishing, exploring — anywhere performance and everyday ease are key.
It's constructed from wool, so its perfect for rolling up for packing and hiking. This fun, versatile outdoor hat comes in sizes from X-Small to XX-Large.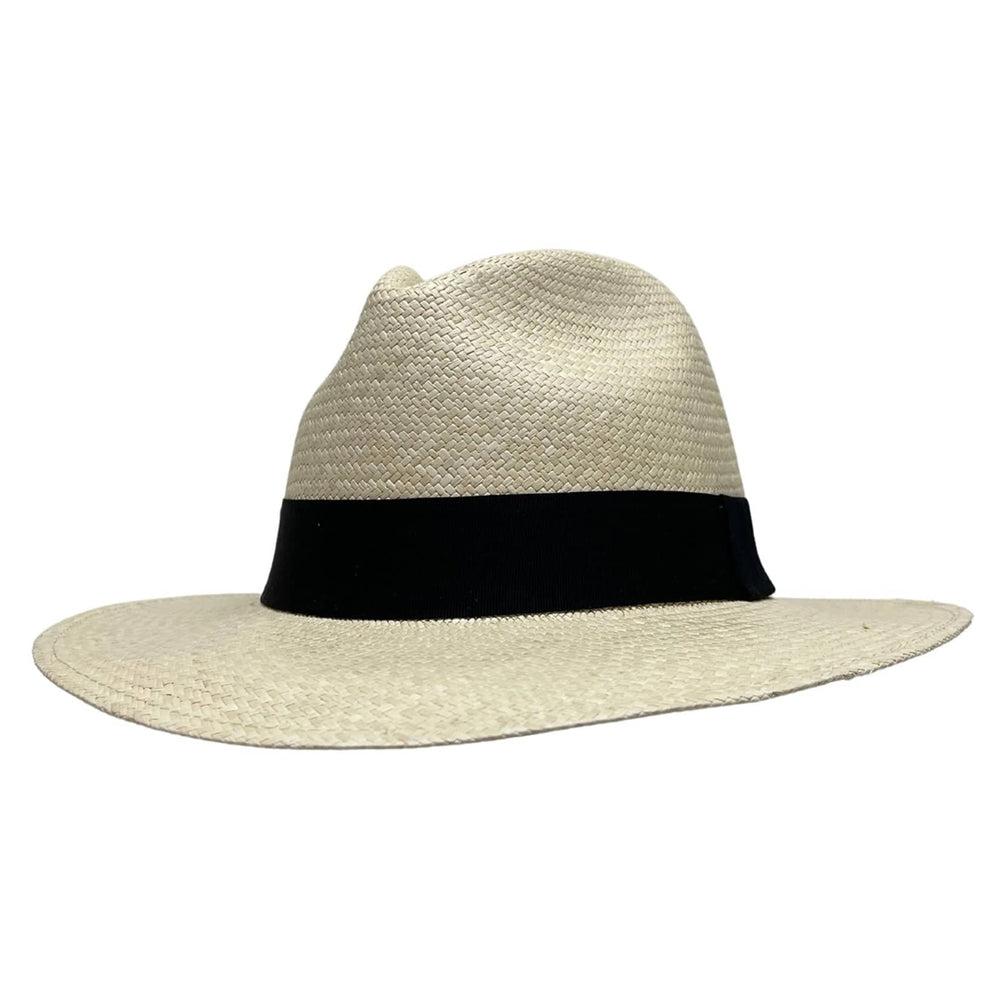 The Caracas Men's Panama Fedora is an iconic style that showcases the cooling effects of toquilla straw. The Caracas offers comfort and class and is built to endure the heat.
This genuine Ecuadorian Panama Fedora is Fino Cuenca (10-12WPI) made with Toquilla straw with a sewn-in sweatband to help keep you cool on hot days and balmy nights.
It's handcrafted in Ecuador and comes in LG-2XL sizes to fit bigger heads.
The Caracas Panama Fedora comes with a lifetime warranty. You can exchange it within 90 days if it's not the perfect hat. We'll ship you as many hats as it takes for you to find the right one.
The Pierside Lifeguard Beach Sun Straw Hat is designed with the outdoors in mind. With a large brim and adjustable chin strap, it provides the perfect lightweight protection and will stay on your head even during windy days.
It's made of 100% Raffia Straw Fiber, so it's waterproof and floats when it's dropped on the water. It also doesn't lose its shape or color after being out in the elements. It comes in sizes from S up to XX-Large.
Zylioo's XXL Oversize Washed Denim Baseball Cap is lightweight, breathable, a great denim finish that holds its durability even after lots of wear and washes.
This stylish hat is perfect for people with big heads looking for a comfortable, stylish hat for outdoor activities thanks to its 2.75" brim.
It's a baseball cap style that offers vintage aesthetics thanks to its construction. This cap is made from 100% cotton and comes in 12 different colors.
It has an adjustable metal buckle and strap, so you can size the hat down if it's too large for your head.
If you're looking for a hat that will make your head feel warm and cozy, check out the Carhartt Knit Cuffed Beanie. The beanie is excellent for everyday use during the colder months and will keep your head and ears warm all winter long.
Carhartt Knit Cuffed Beanie is a one size fits all so its perfect for any larger head size.
For those needing a great snapback hat, we recommend checking out the Brixton Oath III. Whether taking a stroll in your neighborhood or going for a grueling hike, this hat will give you the sun protection (and style) you need.
The Oath III is made in the US and offers solid black panel construction and a snapback closure. The hat is available in varations of black, copper, and grey.
The Dorfman Pacific All Seasons Outback is perfect for those looking to channel their inner Indiana Jones. Available in size 3XL, the Dorfman Pacific Hat comes with a 3-inch brim, leather lining, and sweatband.
The hat is made from wool felt, and Dofrmna offers a 30-day, hassle-free return policy on all of its caps. It also provides a one-year craftsmanship guarantee and will replace damaged caps within 12 months of purchase.
Things to Consider When Buying a Large Hat
When buying a large hat, you must consider more than just your head size. You should also consider your style, how often you plan on wearing the hat, and what outfits you plan to style the hat with.
We also recommend reading online reviews to see if the hat is the right fit for you.
What is Considered a Big Head Size?
Typically any hat size over large is considered a big head size. That's generally around 23.75" in circumference or 59.7 cm.
It's important to remember that hat size varies from manufacturer to manufacturer, so it's essential to check their specific hat size chart when ordering a sized hat.
What Styles of Hats Look Best on Big Heads?
As a rule, it's best for people with big heads to avoid hats with small brims like fedoras and pork pie hats.
Wide-brim hats like Panama, cowboy, sun, and bucket hats are popular with people with big heads.
However, having a big head shouldn't dissuade you from wearing the style of hat you like and find comfortable. However, finding specific styles that fit your head correctly might be more difficult.
How Do I Know My Hat Size?
Measuring your hat size is easy. You'll need a soft tape measure, or a piece of string and a ruler.
Take the tape measure or string and wrap it around about an inch above your ears or where you'd like the hat to sit on your head.
With the tape measure, take the measurement and write it down in both centimeters and inches. Then, with the string, take that string and stretch it next to the ruler, and record that measurement.
Then look at the hat size chart for the manufacturer you're looking at and match your measurement to the chart.
If you're in between sizes, it's usually a good idea to go with the larger size, as many hats can be adjusted down a size.
Related: Best Cowboy Hats - Modern Western Styles
How to Measure Your Head
Here's how to measure your head before buying a hat:
Grab a soft tape measure and place the end of it in the middle of your forehead, just above the ears.
Wrap the tape measure around your head, ensuring it stays about an inch above your ears.
Once you have the head measurement, refer to the company's hat sizing chart to select the correct size.
If you're in between hat sizes, we recommend going with the bigger than the smaller one.
Related: New Rules of Cowboy Hat Etiquette
Have Big Fun With Hats for Big Heads
Having a big head doesn't mean that you can find a hat style that you love. Typically people with larger heads look better in hats with wide brims that can help to accentuate their facial features.
If you're looking for stylish hats for big heads, you can't go wrong with cowboy and Panama hats, which look great on big heads and rock plenty of style.
If you're active, look for hiking, sports, or golf hats that give you plenty of sun protection, keep you cool and comfortable, and look great.
Look for hat manufacturers like American Hat Makers. They offer easy exchanges on hats that aren't perfect and want to work with you to find the right one.
Most importantly, find a hat style that gives you confidence when wearing it.
Are You Ready To Find Your Perfect Hat?
Click Here to Search the American Hat Makers Catalog!