Capture the spirit of the West with our mens cowboy hats. Each cowboy hat echoes a commitment to 50-years of craftsmanship and American authenticity.
The American Hat Makers Difference
If you're wondering where to purchase a cowboy hat, look no further than The American Hat Makers. We pride ourselves on being a unique cowboy hat manufacturer, setting ourselves apart from others in the industry in several ways.

At American Hat Makers, our specialization lies in crafting tejana shapes and rodeo hats. In addition, we offer meticulously handmade vaquero hats that boast a distinctive appearance. We are the sole hat maker providing all three styles of western hats, making us your ultimate destination.

Furthermore, we offer a wide range of sizes and colors to cater to individual preferences. Whether you're in search of a specific tejana shape, a classic rodeo hat, or a one-of-a-kind vaquero hat, The American Hat Makers is the definitive source to fulfill your desires.
Our hats are meticulously constructed using top-quality materials, ensuring their durability and longevity. You can trust that your cowboy hat from American Hat Makers will withstand the test of time, providing you with years of satisfaction.
HANDMADE SINCE 1972
Since 1972, The American Hat Makers have been dedicated to handcrafting exceptional cowboy hats. With meticulous attention to detail, we ensure that our cowboy hats are created using only the finest materials available.

As a result of our commitment to quality, our western cowboy hats possess a truly unique and superior character. While the market may be flooded with imitations, it is only through American Hat Makers that you can obtain an authentic cowboy hat.

A stylish cowboy hat from The American Hat Makers is the perfect choice, offering both functionality and timeless charm.
AMERICAN MADE TO LAST
When it comes to completing a cowboy ensemble, straw western hats make for the perfect accessory. However, it is worth noting that there can be a drawback associated with these western caps.

Ordinarily, straw cowboy hats are prone to rapid deterioration if not constructed with precision. Nevertheless, our men's straw cowboy hats undergo meticulous pre-treatment to ensure their exceptional durability and resilience in any weather condition.

At American Hat Makers, we specialize in crafting western straw hats that are built to withstand the test of time. By utilizing high-quality materials, we take immense pride in creating cowboy hats that exemplify our love and admiration for our country.
Find the Perfect Cowboy Hat
Shop the Best Men's Cowboy Hats Online
Cowboy hats are a classic men's fashion accessory, but it can be hard to find the perfect one for you.
With all the different men's cowboy hat styles and brands available, it can be tough to find the right cowboy hat online. You might end up buying a country hat that doesn't quite fit your style or that you don't end up wearing very often.
At Western Hats for Men, we make it easy to find the perfect cowboy hat for you. Among our wide selection of western cowboy hats, we have some of the best brands in the industry, and our friendly staff is always eager to help you find the right one.
Western Cowboy Hats in Premium Leather, Straw, & Felt
Western cowboy hats come in many different materials, each with its own benefits. Premium leather hats are the most expensive but are also the most durable. Premium leather is the way to go if you're looking for a hat that will last for years.
Straw hats are much cheaper and perfect for hot summer days. They don't last as long as premium leather hats, but they're more than sufficient for occasional wear. Felt hats are somewhere in between leather and straw in terms of price and durability.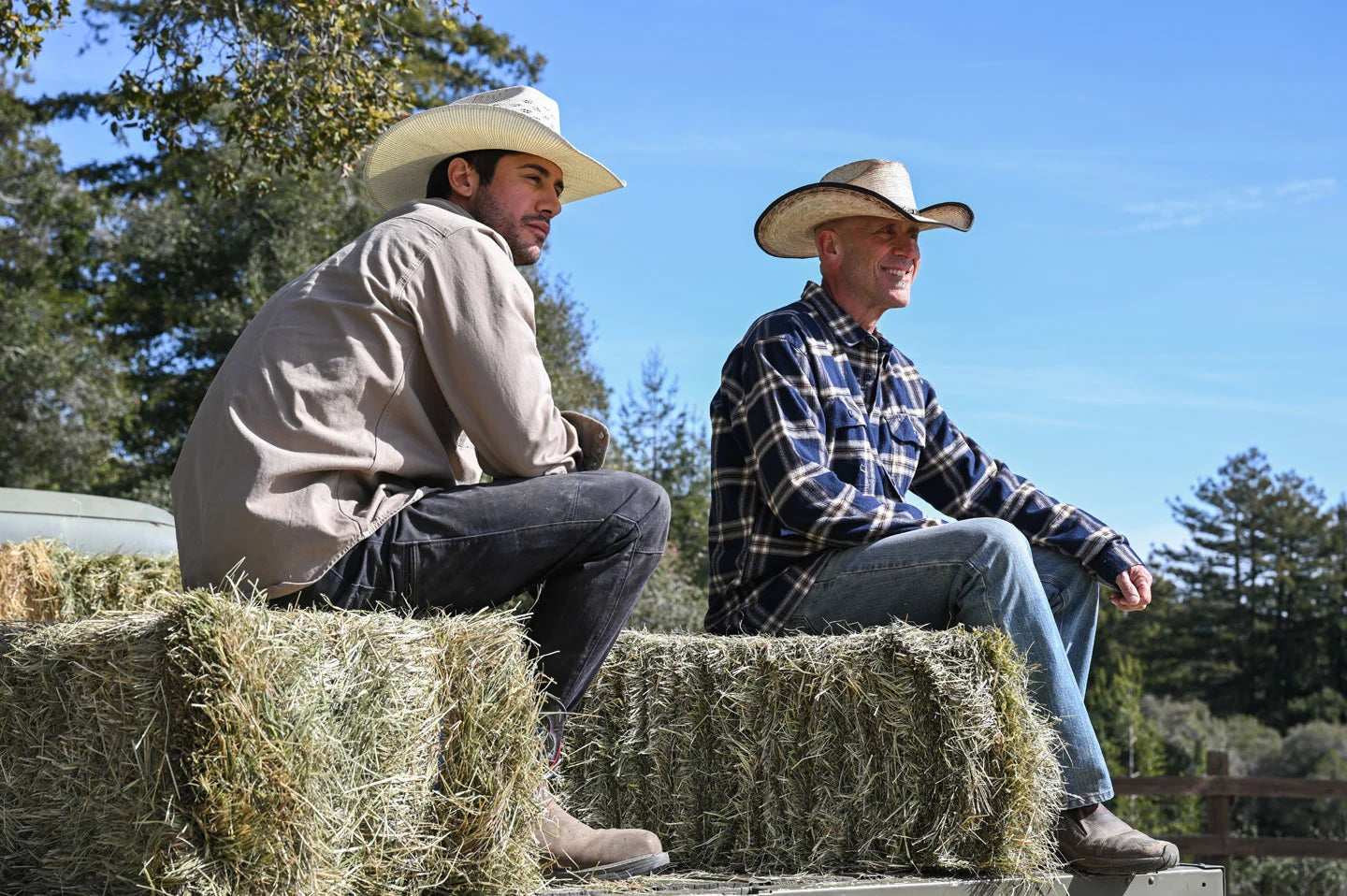 Felt Cowboy Hats
Indulge in the harmonious blend of luxury, warmth, and style.
Leather Cowboy Hats
Unleash bold adventures with our tough yet stylish range.
Premium Straw, Leather, and Felt Men's Cowboy Hats
Rugged western style and long-lasting construction meet in our men's cowboy hat collection. This timeless shape is ready to go for any adventure - from a long day's work to a formal night out.
When you slip on a hand-crafted western hat from American Hat Makers, you're stepping into a look that exudes rugged charm.
Our collection of premium, hand-crafted cowhide leather cowboy hats and Tejana hats, the Yellowstone hat along with felt cowboy hats, natural straw cowboy hats, or even our classic black cowboy hat are just as well-suited for a day on the ranch as they are with a suit and tie for wedding or other formal event.
Hand-hammered lines with intricately-carved leather on the crown and underside of the brim make some of our men's black cowboy hats a fashion statement and the dress hat that's sure to leave the right impression. Meanwhile, our beige, tan, and black hats are the classic choice that makes any outfit an instantly iconic western look.
Find the Right Cowboy Hat Style and Color for You
At American Hat Makers, we pride ourselves on offering cowboy hats in unique styles and colors. Whether you need a black cowboy hat to match your favorite star from Yellowstone, or a white hat to beat the outdoor heat - you'll find it here.
Our black western hats and tan leather cowboy hats may offer a sense of sultry style and mystery to your look when worn low on the brow. But our straw hats are another versatile day-to-day option that lighten your face and go wherever you do.
They can be a workhorse that keeps sweat off your brow while on the farm one minute, shields your eyes from the sun while on the driving range the next, and even accompanies you on vacation. With thoughtful details like sewn-in sweat bands, ventilation points, and stunning accents on the crown and brim, our cowboy hats are made for function, durability, and comfort in one stylish package.
Yellowstone Cowboy Hats
Embrace the untamed spirit of the wild west in our Yellowstone Cowboy Hats.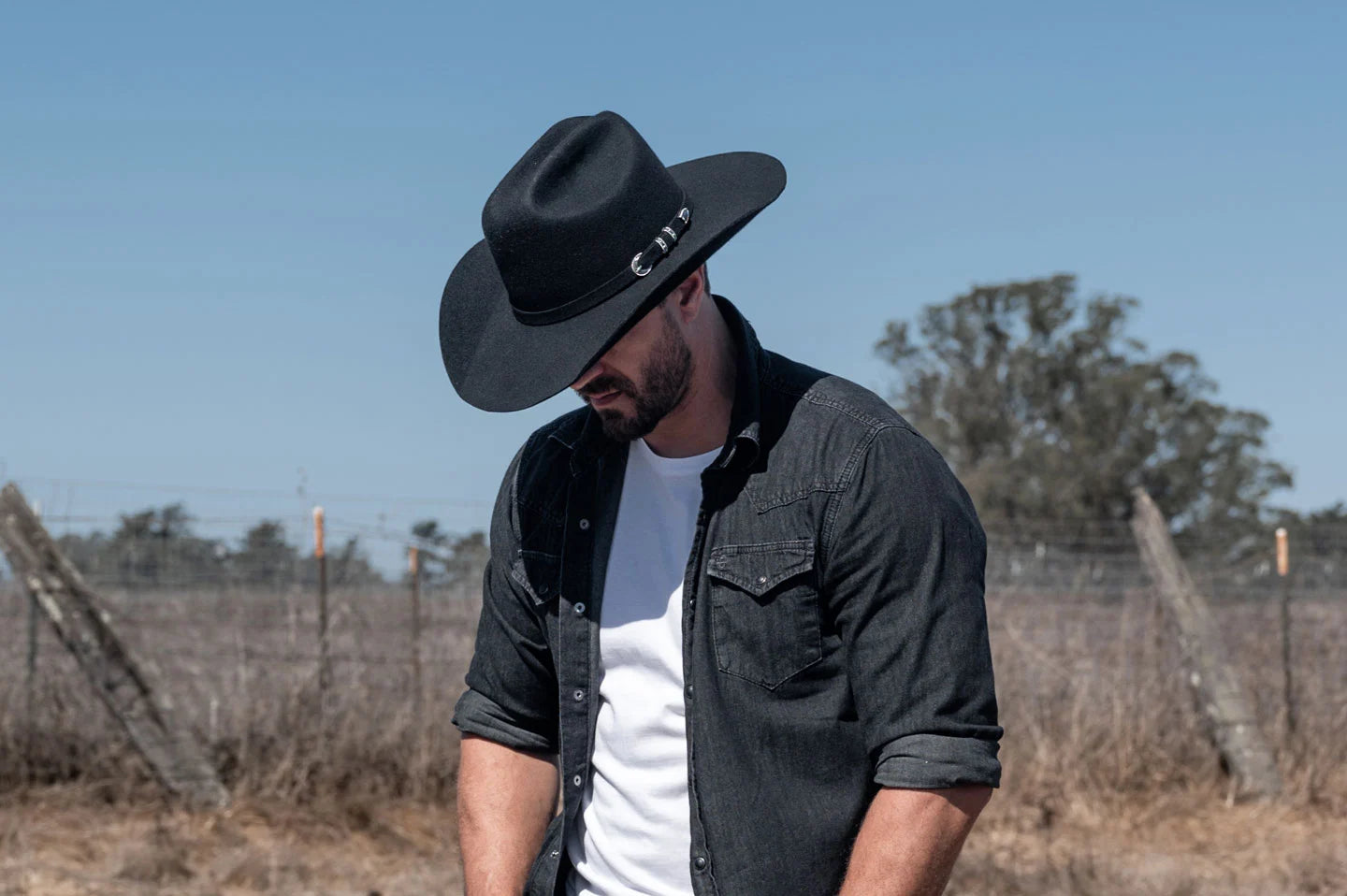 Black Cowboy Hats
Classic western charisma meets contemporary sophistication.
American Cowboy Hats
We are America's premier leather and men's cowboy hat artisans, and take great pride in each and every piece we produce. We don't just think of your cowboy hat as an accessory to a great outfit - or necessary protective gear for a long, hard day of work. We see them as a symbol of American pride and American craftsmanship.
Our 100% natural materials are carefully sourced to ensure your hat contains only top-grain cowhide leather and straw materials, such as seagrass, golden wheat straw, and toquilla palm.
Each leather cowboy hat is constructed in two pieces - the wide, swooping brim, and the pinched crown. The pieces are hand-stitched from the inside to create a hidden seam and tight fit, giving you long-lasting wear and incomparable 360-degree water resistance.
After we've assembled the pieces, we add unique touches that will make your cowboy hat a true collector's item. The result is a soft, supple hat that conforms to your head for a fit so perfect it feels like it was made just for you. Even our vegan men's cowboy hats have been artfully made to mimic the look of true cowhide - using waxed cotton instead of any animal-sourced products.