Make your mark with a men's pork pie hat. Handmade to infuse classic charm with modern fashion, our pork pie hat is a stylish essential for every man's wardrobe.
The American Hat Makers Difference
When it comes to purchasing a men's pork pie hat online, look no further than our collection at American Hat Makers. While it may sound self-assured, let's delve into what truly distinguishes us from other hat makers and why our customers passionately rave about our men's fedoras, cowboy hats, and more.
We meticulously select and utilize only the highest-quality materials, including leather, straw, wool, felt, and others, ensuring impeccable craftsmanship and durability. Additionally, our extensive range offers men's pork pie hats in a wide variety of styles, sizes, and colors, catering to individual preferences. Each hat is constructed with top-quality precision, a testament to the expertise of our local and experienced hat makers.
Whether you seek a men's pork pie hat for an upscale event or casual outdoor wear, rest assured that you will find the perfect fit within our collection at American Hat Makers.
HANDMADE SINCE 1972
Since 1972, we have been making handcrafted pork pie hats for men from the highest quality materials with meticulous attention to detail. Our method produces one-of-a-kind, durable pork pie hats of the highest quality.

You can be certain that we have the ideal men's pork pie hat for every event, whether formal or casual, inside or out.
AMERICAN MADE TO LAST
Men's pork pie hats are versatile accessories that effortlessly complement various outfits and styles. At American Hat Makers, we take pride in handcrafting our men's pork pie hats, employing the use of only the finest materials to ensure unparalleled quality.

To offer peace of mind, we provide a 50-year guarantee on all our men's pork pie hats, relieving any concerns you may have. Our commitment to longevity ensures that every hat we create is designed to withstand the test of time, promising years of enduring style and durability. Rest assured that when you choose our hats, you are investing in a piece that will accompany you for many seasons to come.
Shop the Best Men's Pork Pie Hats Online
Shop Our Daringly Fashionable Men's Pork Pie Style Hats
Buy a men's pork pie hat and slip into a surefire statement piece. This hat can seamlessly accompany you everywhere from late-night jazz clubs to sunny outdoor festivals.
When it comes to men's hat styles, pork pie styles are one of the most unique, head-turning hat styles on the market. Some know it as the Heisenberg hat, or the Walter White hat, this iconic hat has been in fashion since its creation and will keep its repertoire until the sun explodes.
This particular hat brings some lift and polish to the familiar shape of a fedora, with a high, round crown and narrow brim. This stingy brim hat has a silhouette that also bears some resemblance to men's top hats.
The main difference between a pork pie and a classic top hat, though, is in the brim. A top hat has contrasting edges with the front and back turned down and the sides turned up. A pork pie hat has a much flatter brim, providing more coverage from the elements and lending a bit of mysterious regal flair.
Our leather pork pies are sure to be a favorite among anyone shopping for men's leather hats. The strong and durable seams lend a rough and tough masculine look. The hard-edge leather pork pie style, in dark brown or black, will have you ready for anything. From a biker rally to a black tie affair, vacation to performing on stage, black pork pie or straw pork pie, this style of hat will never cease to impress.
For those who want something softer and lighter than leather, look no further than our bolero-inspired mesh pork pie hat options.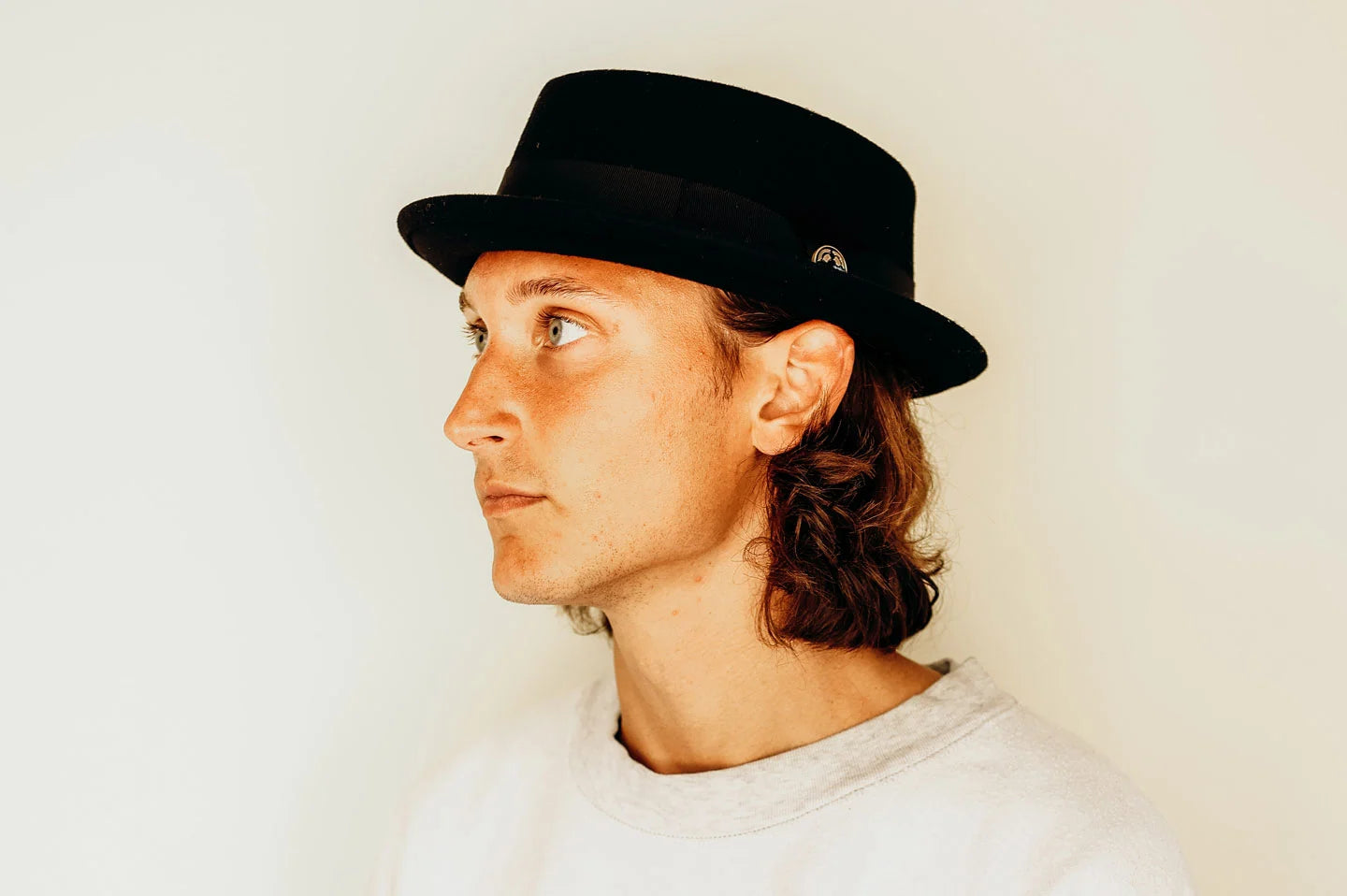 With a stunning wagon wheel hat band, these breathable, wide-brimmed hats are built to protect you from the high-noon harsh rays while helping you maintain a cool head with multiple ventilation points.
Finding men's black hats with personality can be tricky, but not here. Wool men's pork pie hats make the perfect topper for those cool cats on center stage and the poets in the corner. The interlocking fibers of our hand-selected felt make this black hat option both featherlight and classy. As a final finish, our felt pork pie hats feature a sewn-in hat band made of ribbon, with a zingy silver button.
Men's pork pie style hats are simple, yet bold. And added details can make or break the overall character. That's why we carefully consider each finishing stitch or hat band choice, only adding those that enhance and complement the silhouette's natural simplicity and bold shape.
Whether it's adding a button, a ribbon, or a splash of color, the little things can really transform this accessory from a Wild West must-have to a speakeasy zoot suit accompaniment.
As this style has grown in popularity, so have its available options. Now, you can find these hats in all kinds of colors, shapes, and sizes right here in our collection.
The classic clean lines of men's pork pie hats make them an ideal choice for any man, even those looking for men's hats for big heads. 
An American-Made Hat You Can Rely On
Fine details aren't just decorative here at American Hat Makers. We put the highest level of care into every step of creation on every one of our hats. 
We've been in the hat business for more than 40 years, and we're proud to continue carrying on old traditions and blazing new trails. Our men's pork pie hats are proudly hand-made in the US by expert artisans.