Embrace Summer with our straw hats for men. Each straw hat delivers both comfort and sun protection, serving as the ultimate warm-weather essential for every man.
The American Hat Makers Difference
When it comes to men's straw hats, not all options are equal. At American Hat Makers, our products are designed with distinct advantages that set them apart from the competition, making them the epitome of excellence in the straw hat market.

We take great pride in meticulously crafting each hat, ensuring that every detail is thoughtfully considered. Our commitment to superior craftsmanship and attention to quality give our straw hats an undeniable edge.
Handmade since 1972
Our hats are created from 100% natural fibers, as opposed to the synthetic materials used to make other straw hats for a lower price. Cutting, stripping, and cleaning these fibers meticulously ensures the finest quality end result.

Our dedication to workmanship and use of high-quality materials give our straw hats extraordinary longevity, as well as a stylish appearance. Our hats are built to last, even when subjected to the elements, such as rain or frequent use, whereas their less expensive counterparts soon degrade.

Our men's straw hats are a great choice if you're looking for durability and good looks. Discover a hat that not only looks great but can survive the test of time thanks to its handcrafted craftsmanship and high-end materials. If you're looking for a quality straw hat for guys, go no further than American Hat Makers.
AMERICAN MADE TO LAST
At American Hat Makers, we prioritize delivering high-quality products, exemplified by our exceptional men's straw sun hats. These hats are meticulously crafted to stand the test of time, utilizing durable materials. We firmly believe that our hat options are unparalleled in quality and craftsmanship.

Understanding our customers' desire for longevity, we offer a special "50-year Refurbishments" service. For a nominal fee of $9.00, you can send your men's straw hat back to us for necessary repairs. Whether your hat has become misshapen or stained, our skilled artisans will restore it to its former glory before sending it back to you. This means that the straw fedora hat or men's Panama hat you purchase from us will not only endure but also maintain its pristine condition for years to come.
Stylish and sophisticated
Shop the Best Men's Straw Hats Online
There are plenty of reasons that straw hats for men are an excellent choice for any wardrobe. Men's straw hats are stylish and sophisticated, complementing many wardrobes. Plus, they are lightweight and offer sun protection making them perfect for many situations.
American Hat Makers offers a wide range of products in this category. Whether you need a Panama hat, a Cuban Hat, or something else, we provide a high-quality option you'll love.
Stylish Straw Hats for Men
Our collection of straw hats for men will take you from a long day's work to a breezy vacation and everywhere in between. With carefully-sourced, all-natural materials and an unparalleled attention to detail in the craftsmanship, these versatile men's hat styles will look as good on as they feel.
A rugged classic, our mens straw cowboy hats in a rigid yet lightweight design offer an all-season hat that keeps you cool with multiple ventilation points and a removable sweat band.
Meanwhile, our men's straw boater hats with relaxed brims and our men's straw fedora hats with wide, flat brims keep the sun out of your eyes without compromising comfort or style. They'll look just as great on the golf course as a weekend boating trip, with details like contrasting hat bands, brim trim, pronounced crown pinches, and even a feather or two tucked into the hand band for an eclectic finish.
When it comes to color options, we like to honor the beautiful colors and variations in the 100% natural fibers from which we construct our straw hats for men. After hand-selecting the seagrass, toquilla palm, and golden wheat that will be used in your hat, we then cut, strip, and clean each bundle to ensure the most uniform color. We'll bleach the fibers for our off-white and cream designs, applying a natural colored dye to produce an iconic beige or light brown sun hat.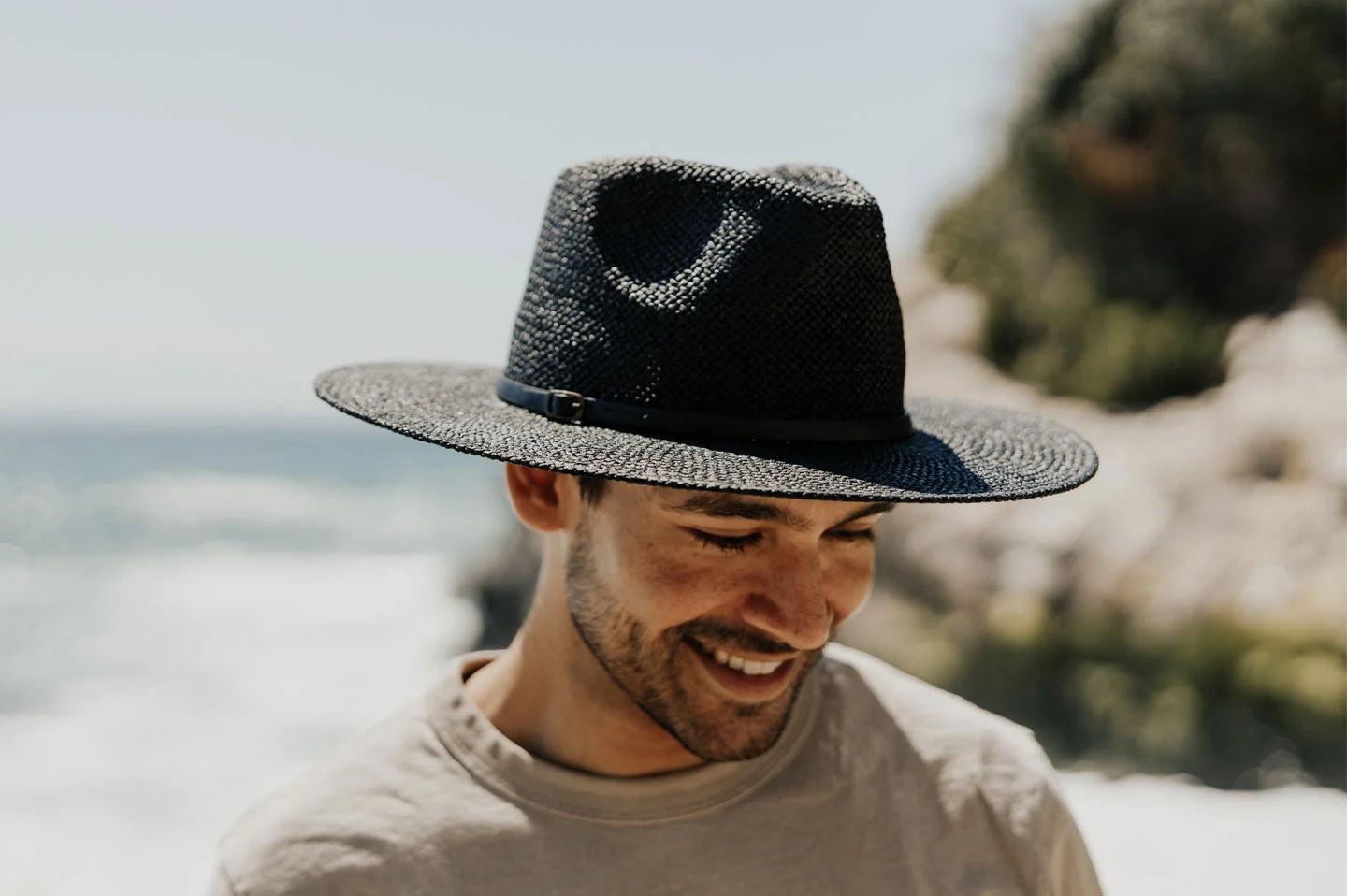 Straw Hats for Men Made to Last a Lifetime
The team at American Hat Makers has been crafting premium men's sun hats, men's outdoor hats, and the mens straw fedora for over 40 years. Many modern straw hats aren't made from true straw. They're made from a shellacked rice paper called "Toyo straw." And since it's paper, Toyo straw doesn't hold up against the weather, like a true outdoor hat should.
That's why we dedicate ample time to the sourcing process. As we mentioned, our men's straw hats contain a 100% natural mix of the hardiest stalks, stems, and leaves. And it's not just because we love natural coloring and textures. Palm trees hold up to a hurricane, and wheat stalks certainly don't dissolve with every drizzle.
These are the fibers we trust in our straw hats for men. That's why your hat has you covered in rain, wind, and sun, just like it's supposed to.
And, once those quality fibers have been sculpted into our men's straw cowboy hats or other popular straw silhouettes, we add additional treatment or laminate to improve the water resistance and ensure true sun protection in up to SPF 50.
Caring for Your Men's Wide Brim Straw Hat
Caring for men's straw hats is different than caring for other hats. Even the sturdiest straw is a little delicate. Because of this, a straw hat needs to be treated to look its best.
When cleaning your men's straw hat, take a moist towel and wipe the brim or crown gently. This helps remove any dirt, dust, or other material. As you do so, follow along with the weave in a round pattern. Once you are done, let it air dry thoroughly.
After cleaning or using your hat, make sure to store it safely. Hang the hat on a hook or put it in a sturdy container or hat box. This will prevent it from being accidentally crushed or damaged in some other way.
We truly believe that your hat should be yours for as long as you want to use it, and then passed down to future generations for even more adventures. We've carefully curated the premium materials and taken the long road to be masters of our craft. But proper care and storage will ensure that craftsmanship is visible for longer.
You can use a damp cloth to gently wipe away any dust or soils from the crown or brim of your men's straw hat. Follow the weave of the straw or palm and clean in a circular shape around both the crown and brim. Let it thoroughly air dry before storing it on a hat hook or in a hat box between adventures.
Need some backup when it comes to keeping your legacy piece looking as good as the day you bought it? Just select the "Lifetime Refurbishments" option at checkout.
For just $10.77, you can send your men's straw hat back to us for repairs. From misshapen brims to persistent stains, we'll help restore your hat to its former glory.
Our promise is to provide men with hats that meet at the intersection of lasting durability and timeless style. American Hat Makers straw hats for men are true investment pieces, made to last much more than a season. What's more, we proudly offer sizes that span from small hats to large hats for men with big heads, to ensure that every man can find a fit that feels like it was made for him.
Straw hats men FAQ
Any hat with a wide brim will offer some sun protection. However, our wide-brim straw hat men's options provide even more sun protection.
As our hats are assembled, we treat or laminate them at the very end of the process. This helps ensure sun protection of up to SPF 50. Because of this, our straw sun hat men's options and straw beach hats men's options provide even more protection than usual.
The search for options starts by finding a man's hat shop. Many people simply search "straw hat near me" or "straw hats near me" to get ideas. However, it is important to ensure the shop you go with is a quality shop, like American Hat Makers. Otherwise, you will end up with an inferior product.
From there, it is a matter of picking the right hat to suit your needs. If you need farmer hats, then a farmer straw hat is a good choice. If you need something stylish, straw fedora hat men's or Panama straw hat men's options are worth looking into.
Men's straw hat styles are varied. However, the two most popular include Panama hat men's options and straw fedora men's options.
A fedora and a Panama hat are two top straw hats for men styles. However, they are extremely similar to each other, so much so that many people don't know the differences between them.
The most significant difference is that a Panama hat is always made from straw, while a fedora is often made of another material. Despite this being a major difference, some fedoras are made from straw.
However, there are still differences between a Panama hat and a straw fedora. Typically, the brim and the band surrounding the hats will be different. A Panama hat will always have a black band, while a fedora will not.
There are many different Cuban hat styles out there. Because of this, Cuban hats fall under a range of different definitions. However, most are tied together by the fact that they are made from straw and have a wide brim that encircles the hat.