Celebrate your love for the red, white, and blue with our patriotic hats for men and women. Every patriotic hat we offer serves as a stylish symbol of your national pride.
The American Hat Makers Difference
Searching for the perfect patriotic hats online? Look no further than American Hat Makers, where exceptional quality intersects with masterful craftsmanship. Our carefully curated selection features patriotic hats crafted from top-grade materials like premium canvas and high-quality wool. Offered in a variety of styles, sizes, and colors, each of our patriotic hats exemplifies the superior craftsmanship you expect from our skilled artisans. Whether you're celebrating the Fourth of July or just want to showcase your national pride, our patriotic hats offer the ideal combination of style and durability for any event.
HANDMADE SINCE 1972
Since 1972, we've set the standard for crafting exceptional patriotic hats, utilizing only the highest quality materials and focusing on meticulous craftsmanship. Unlike mainstream retailers offering subpar alternatives, our patriotic hats are built to last. Whether you're attending a national celebration or simply looking to express your patriotism, our unmatched design and artistry guarantee that you'll find the ideal patriotic hat for any occasion.
AMERICAN CRAFTSMANSHIP
At American Hat Makers, we understand the impact that a premium-quality patriotic hat made in the USA can have on your overall look. Each hat in our collection is meticulously handcrafted right here in California, using the finest materials to ensure durability that stands the test of time. More than just a fashion statement, our patriotic hats made in the USA are built for enduring wear. For extra peace of mind, each hat comes with a lifetime guarantee against defects in both materials and craftsmanship.
Find the Perfect Patriotic Hat
Shop the Best Patriotic Hats for Sale Online
Sifting through the multitude of options for patriotic hats can be as challenging as finding a needle in a haystack of choices. With countless designs and styles available online, you might find yourself at risk of selecting a hat that fails to meet your needs or never leaves the shelf.
However, American Hat Makers has made the quest for the perfect patriotic hat straightforward. Our handpicked collection represents the pinnacle of craftsmanship, and our seasoned team is always on hand to guide you towards the patriotic hat that best suits your style and requirements.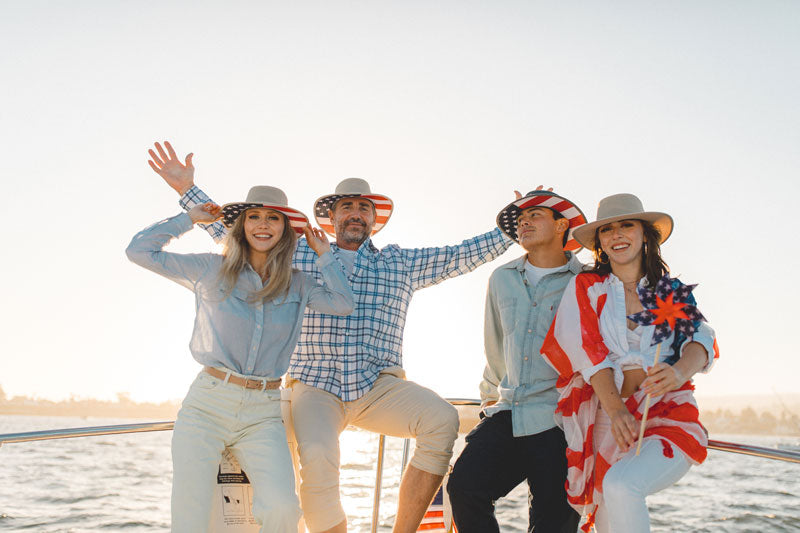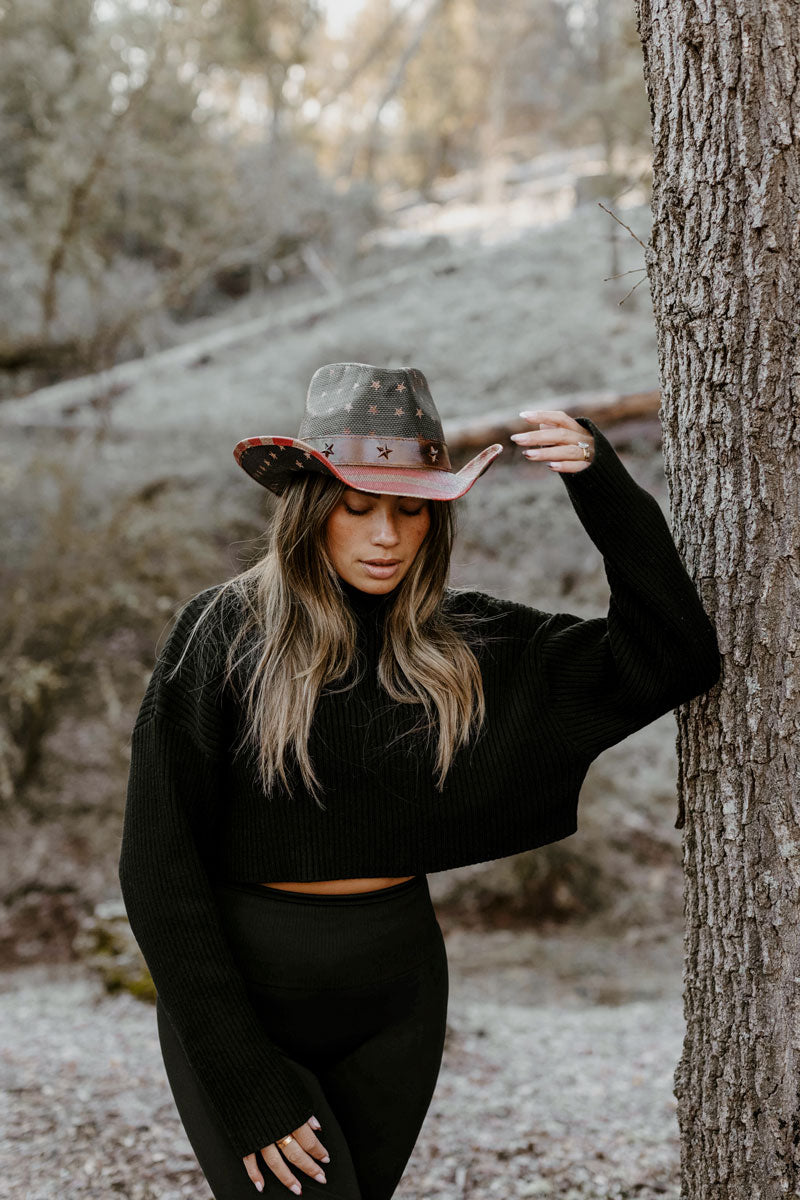 Freedom, Fashion, and Function
Command Your Style with American Patriotism
When it comes to displaying your love for the red, white, and blue, why settle for less? Our Patriotic Hats collection offers a diverse range of hats made right here in the USA. With choices that are as unique as you are, from patriotic trucker hats to patriotic cowboy hats, you can showcase your American pride in a way that's meaningful to you.
Crafted with the finest materials and imbued with a sense of patriotic spirit, our hats are not just a fashion statement but a symbol of freedom. Step out in confidence and pride knowing that your hat not only looks good but also stands for something greater. Embrace your individuality while honoring the country you love.
Style, the American Way
Lead the Parade in Eye-Catching Fashion
Take your style game to the next level with our Patriotic Hats collection. These aren't just any hats; they're a tribute to the ideals that make America great. Whether you're looking for patriotic golf hats or patriotic fitted hats, we have something to cater to your unique sense of style.
Designed with attention to detail and built for durability, our hats are perfect for any occasion—be it a 4th of July celebration or a casual day out. Grab one today and be the talk of the town, all while saluting the stars and stripes.
Timeless Elegance, Impeccable Craftsmanship
Invest in Quality that Speaks Volumes
In a world full of disposable fashion, our Patriotic Hats offer something a cut above the rest. We believe that quality should never be compromised, especially when it comes to showing off your national pride. That's why we've crafted a collection featuring everything from patriotic snapback hats to patriotic bucket hats, all made with the finest materials available.
You're not just buying a hat; you're investing in a piece of art that represents the land of the free and the home of the brave. Every stitch, every detail, speaks of the American craftsmanship that we're so proud of.
Hats that Fit Like Freedom
Discover Endless Comfort with a Dash of Daring
Looking for the ultimate comfort while still showcasing your patriotic spirit? You've found it. Our Patriotic Hats are designed to offer you the best of both worlds. Be it mens patriotic hats or womens patriotic hats, our range is designed to offer something for everyone.
With features that ensure a snug yet comfortable fit, you can go about your day without a second thought. Whether you're running errands, heading to a barbecue, or taking a leisurely walk, our hats provide the comfort you need and the style you desire.
Fashion That Honors Tradition
Elevate Your Everyday Look with a Bold Statement
There's no easier way to make a style statement than by wearing one of our Patriotic Hats. Specifically crafted to be versatile, these hats complement any outfit, whether you're dressed down or going for a more polished look.
Our collection includes everything from fitted patriotic hats to flexfit patriotic hats, offering endless possibilities for you to show off your American pride. The designs are bold, the colors are vibrant, and the message is clear—this is fashion that honors tradition while embracing modernity.
Mark the Moment with American Pride
Celebrate Every Occasion in Unparalleled Style
Got a special event coming up? Our Patriotic Hats are the perfect way to mark the occasion. From patriotic men's hats for that weekend fishing trip to patriotic caps and hats for your next sporting event, we've got you covered.
These hats aren't just accessories; they're an extension of who you are and what you stand for. When you wear an American Hat Makers Patriotic Hat, you're not just joining a trend. You're becoming part of a community that values quality, style, and above all, freedom.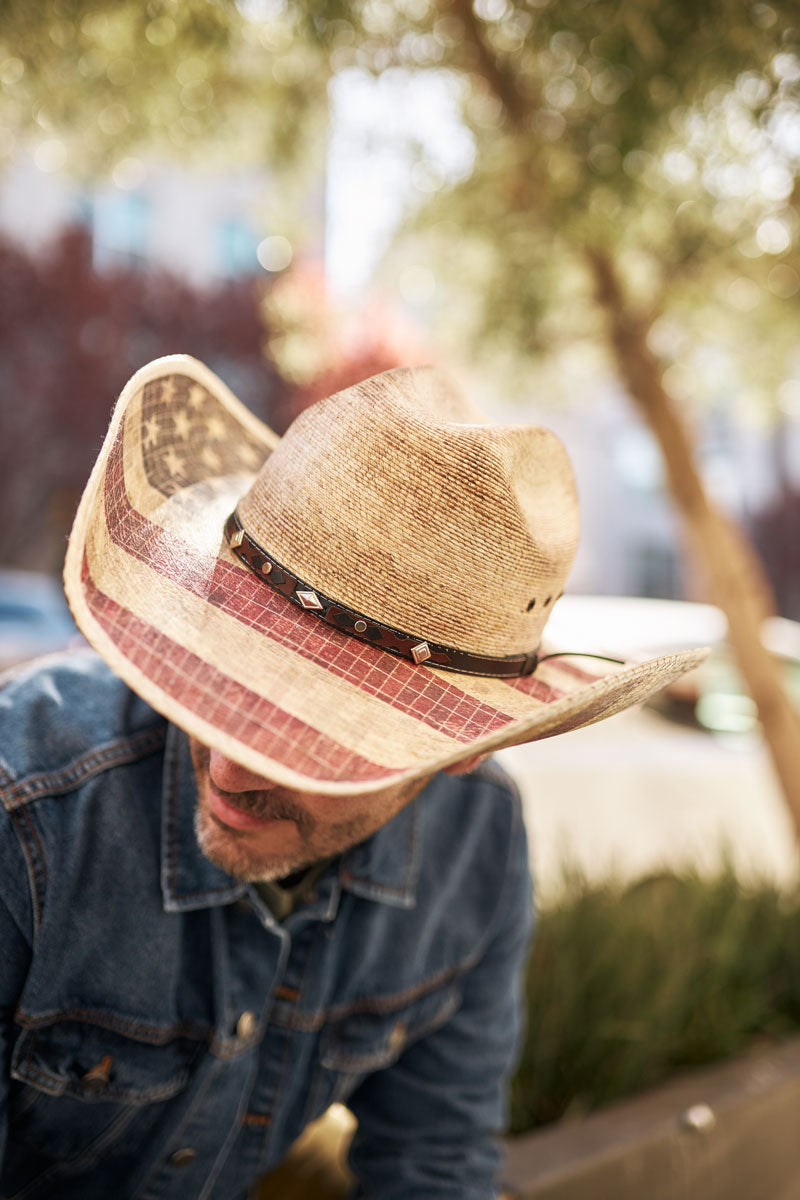 Patriotic Hats FAQ
Our collection features various types of patriotic hats, including patriotic trucker hats, patriotic snapback hats, and patriotic cowboy hats. There's something for everyone looking to show off their American pride!
Yes, many of our patriotic hats are made in the USA. You can find details about the origin in the individual product descriptions.
The materials used vary from hat to hat but expect high-quality fabrics designed for durability and comfort.
Yes, we do have patriotic cowboy hats. These hats are perfect for those looking to combine their love for country and western style!
Special promotions and discounts may be available. Please check our website regularly for the latest deals on our patriotic hats.
The care instructions depend on the material and style of the hat. Be sure to check the product description or tags for specific care guidelines.