Celebrate the spirit of freedom with an American flag hat. Designed as symbols of pride and heritage, our American flag hats blend fashion and national spirit seamlessly.
The American Hat Makers Difference
If you're in pursuit of the quintessential American flag hat, look no further than American Hat Makers. As renowned artisans, our American flag hats embody unparalleled design and craftsmanship, perfectly capturing the spirit of the nation. From classic baseball caps adorned with the Stars and Stripes to elegant designs infused with patriotic motifs, our collection stands as a testament to the country's timeless glory and our commitment to quality.

Our range caters to every patriot's taste, solidifying our reputation as the premier choice for American-themed headwear. Each hat is crafted with precision using only premium materials, ensuring not only durability but a style that radiates national pride. With American Hat Makers, you're choosing more than just a hat – you're embracing a symbol of enduring patriotism.
HANDMADE SINCE 1972
Since 1972, The American Hat Makers have championed the craft of creating distinguished American flag hats, embodying national pride and spirit. Every hat, perfect for both men and women, is crafted from the finest materials with unparalleled dedication. Amidst countless replicas, The American Hat Makers stand out as the beacon of genuine emblematic design. Donning our hat is not just a style choice but a salute to timeless elegance and American heritage.
AMERICAN CRAFTSMANSHIP
When embarking on a journey of patriotism, American flag hats are not just an accessory – they're a statement of pride. Not all flag hats reflect the same commitment to quality and heritage. At American Hat Makers, our hats, crafted from the finest materials, represent enduring American values.
Wearing our hat is not just an act of style, but a tribute to our nation's timeless legacy and our company's American craftsmanship.
Find the Perfect American Flag Hat
Shop the Best American Flag Hats for Sale Online
With countless American flag hat styles and brands on the market, selecting the ideal one online can be challenging. There's the potential pitfall of choosing a hat that doesn't align with your patriotic spirit or remains unused.
At American Hat Makers, we streamline your search for the perfect American flag hat. Among our vast collection, we feature some of the industry's finest, and our dedicated staff is always on hand to assist you in making the right choice.
howcase Your Patriotism
Bold and Bravado with Every Tip of the Hat
Embrace the spirit of freedom with our men's American flag hats. Every curve and stitch resonates with our nation's pride, intricately designed for the discerning patriot.
These aren't just hats, but symbols of allegiance and respect, merging unparalleled craftsmanship with timeless style. Whether you're watching a Fourth of July parade or grilling at a summer BBQ, the iconic stars and stripes stand out, ensuring you make a statement with every nod.
Let Freedom Reign
Elegance Meets Patriotism in Every Stitch
Ladies, it's time to let your American spirit shine. Our women's American flag hats blend the boldness of the stars and stripes with the grace of modern design.
Whether you're headed for a festive city celebration or a laid-back day in the park, our hats ensure you radiate confidence and pride. Each hat is a testament to both style and heritage, designed just for you.
A Salute to Style
Every Gentleman's Essential for a Day Under the Sun
The essence of America, handcrafted into a hat. These American flag trucker hats and baseball caps are more than just fashion accessories; they're a testament to your unwavering pride.
Perfect for sunny days and national holidays alike, they blend function with flair. The crisp design of our black and grey American flag hats aligns sophistication with patriotism, making you the center of attention.
Wear Your Heart on Your Head
The Ultimate Hat for Every American Hero
When you don our American flag hat, you're wearing a piece of history. Every hat, from the camo designs with American flag patches to the subdued tones, speaks volumes about your love for the land of the free.
Revel in the comfort of a cap crafted with precision and passion. It's more than just a piece of apparel; it's a badge of honor.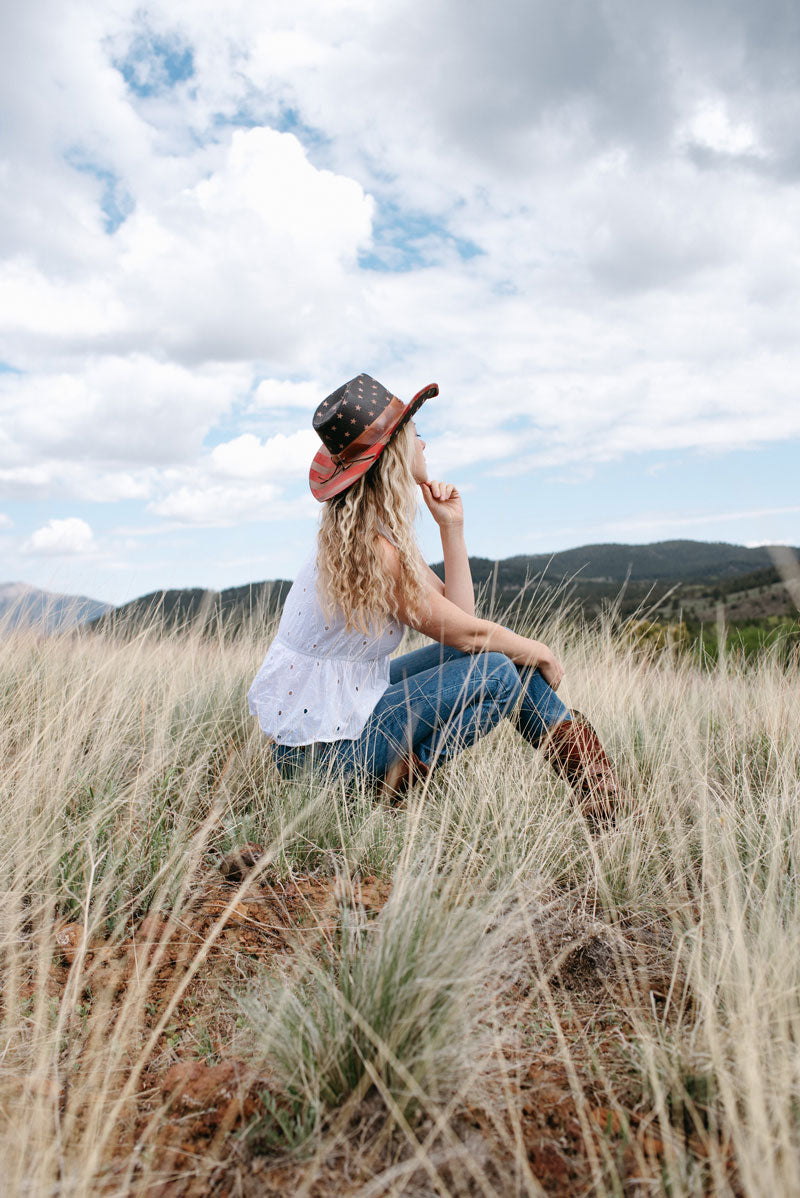 Star-Spangled Style
Turn Heads with Every Tilt and Turn
Celebrate the essence of America in fashion. Our American flag bucket hats and snapbacks bring a contemporary twist to traditional patriotism.
They're not just hats, but a statement, offering a chic way to express your national pride. Let the flags fly high and your style soar higher with each wear, knowing you're donning the best in patriotic fashion.
Freedom in Every Fiber
A Hat Woven with Love and Legacy
Our American flag hats for women are more than accessories; they're an embodiment of our shared history. From baseball games to evening strolls, these hats are your perfect companion, complementing every outfit with a touch of national pride.
Expertly handcrafted and designed for comfort, they ensure you stand tall and proud, capturing the spirit of America with every step.
American Flag Hat FAQs
Our men's American flag hat collection is a blend of patriotism and style. Crafted with precision, each hat boasts high-quality designs ranging from american flag trucker hats to subdued american flag hats. We also offer unique variations like the american flag with green stripe and the black and grey american flag hats to suit individual preferences.
Yes, our american flag baseball cap collection for men includes a variety of designs. Whether you're looking for a black american flag hat, an american flag snapback hat, or a unique camo hat with american flag, we've got you covered. Each hat is crafted to showcase your patriotic spirit in style.
Certainly! We understand that everyone has their unique style preference. That's why we offer hats like the grey american flag and the black american flag hat. These designs give a subdued yet patriotic look, perfect for those who prefer a more toned-down style.
For the ladies who wear their patriotism with pride, we offer an array of american flag hats for women, from the classic american flag baseball hat to the trendy american flag bucket hat. Each hat is designed to combine style, comfort, and pride in one.
Absolutely! Our collection boasts patriotic hats made in the USA tailored for women. Each hat captures the essence of American spirit and is crafted to perfection to ensure women can showcase their patriotism in style and comfort.
We'd recommend our american flag patch hat and the american flag ball cap for women. Both designs are unique, blending the classic American flag look with contemporary hat styles. If you're looking for something even more distinctive, our camo hat with american flag is a popular choice among women who like to mix a bit of ruggedness with patriotism.